Eniola Aluko column: France tears, Mexico memories, family support
Last updated on .From the section Women's Football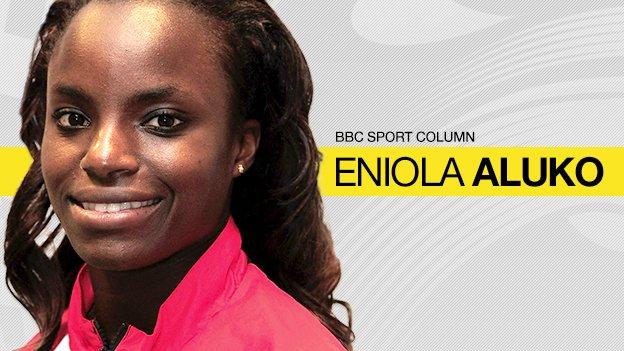 England forward Eniola Aluko is writing a regular column for the BBC Sport website throughout the Women's World Cup.
Here she reflects on defeat by France, the benefits of a football family and looks ahead to Saturday's match against Mexico.
One of the people I spoke to after the France game was my brother, Hull striker Sone Aluko, and it definitely helps when you can talk to someone who understands the game from a tactical point of view.
Yes, we lost 1-0 and we had a game plan where I had to sacrifice some of what I like to do as a forward, but the measure of success for someone in my position is not always scoring goals or getting assists. You also have to do a job for the team.
Sone has played as lone striker many times in his career too so knew my role. He was positive about by my defensive work, as was England head coach Mark Sampson, and he encouraged me to take confidence into the next game against Mexico on Saturday.
I always like to watch the game back as quickly as possible and am quite self-critical in terms of how I can improve for next time. So the fact that I can discuss different game plans with Sone really helps.
In tournaments as big as the World Cup it is nice to have an honest and knowledgeable voice on the end of the telephone sometimes.
Although a lot of what we planned against France worked, you may have seen that I was upset and disappointed at the final whistle on Tuesday.
That was me just being emotional Eni for a little bit. We have been through so much to get to this point and when you have worked so hard, built up all those emotions and lost the game, sometimes it all just comes out. The success of this team means a lot to me.
I might look ruthless on the pitch and I can tell you that no-one wants to do well in this tournament more than me. But very soon after the whistle I had gathered my emotions and was upbeat for the next game against Mexico.
They are ranked 19 places below us at 25th in the Fifa rankings, so Saturday is a great opportunity to try and win the game. In that sense we will be more attacking and on the front foot from the start.

We did have our opportunities against France and I felt like I got in behind their defence at times, but against Mexico it will be a different game plan. They have a certain set-up that we can exploit.
The match is a repeat of our first group game in the 2011 World Cup, which we drew 1-1 before going on to the win the group.
During the second half of that game, I missed a good chance to score and reacted to some Twitter abuse afterwards by calling it "poisonous".
I've said before in this column that I was new to social media at the time and shocked at some of the abuse but I'm a different person and player from four years ago and to be honest I'm not thinking too much about that game.
I've grown a lot since then, not to mention scoring lots of goals but also missing chances too. That is the life of a striker.
Forwards will always have games where they falter, yet there are games where you'll score from one opportunity. That happened in the Cyprus Cup against the Netherlands last March, when former England captain Gary Lineker was among those to praise my goal in a 1-1 draw.
It's pure coincidence that we are playing Mexico again but hopefully I can start the game, score goals and look back and say it was a more successful game than four years ago. If anything, having chances last time gives me confidence. I just have to be in the right places to make sure I am more clinical this time.
I'm hoping I can become the second Women's Super League (WSL) scorer in the tournament after Nigeria and Liverpool striker Asisat Oshoala beat me to the punch by scoring against Sweden.
It didn't surprise me that she made such an impact in the 3-3 draw against a team who are fifth in Fifa's rankings and one of the top teams in this tournament.
She's only 20 but poses that sort of threat in the WSL all the time. She has that brutal combination of being very direct, quick and powerful and she showed that when she knocked Sweden's Nilla Fischer, one of the strongest players in the game, off the ball for Nigeria's first equaliser.
Nigeria were great to watch and although everybody has their opinions about them being disorganised and defensively weak, I think they proved that attack is sometimes the best form of defence.
Playing Nigeria would be an interesting one for my family as my parents are from there and I was born in Lagos too, but I think I've swung them England's way now.
First, though, we have to get points on the board and get out of our group, starting with Mexico.
Eniola Aluko was speaking to BBC Sport's Alistair Magowan in Canada.