Chris Hargreaves: Torquay boss 'placed on gardening leave'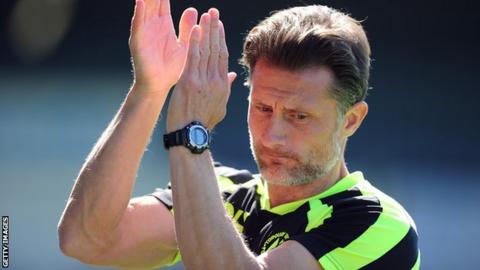 Torquay manager Chris Hargreaves is set to leave the National League club following Friday's takeover.
Hargreaves, his assistant Lee Hodges and coach Kenny Veysey, have been placed on gardening leave after turning down a "significant" pay cut.
The Gulls won three of their final four fixtures last season, but only finished 13th in the table.
"Torquay would like to place on record our sincere gratitude to three legends of the club," a club statement said.
"The consortium led by Dean Edwards was forced into a position of offering the coaching staff an opportunity to either take a significant pay cut or be placed on gardening leave.
"In the end, the two sides were unable to agree on the right way forward, both in terms of their individual contracts and the financial constraints that will be placed on the playing side of the club next season."
Hargreaves was named Torquay boss in January 2014 with the Gulls 23rd in League Two, but could not save the club from relegation.
The 43-year-old former Bournemouth coach was in charge for 75 games, winning 27 and losing 33, with 15 draws.
He refused to comment on his departure when contacted by BBC Sport.