St Mirren: Fans want winter shutdown, says Stewart Gilmour
Last updated on .From the section Football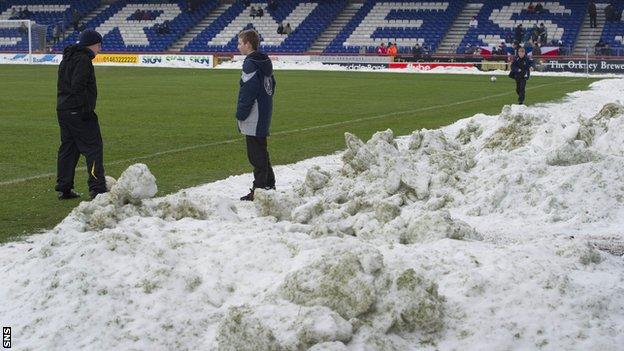 A majority of St Mirren fans would back a switch away from the traditional winter football programme, according to chairman Stewart Gilmour.
And he wants Scottish league bosses to seriously consider a change.
"We are talking about 40-45% of fans want summer football," said Gilmour.
"The no-change brigade are still there at 15-20% and the hybrid form, where we don't play in January and February and start early, you are probably talking about 35-40%."
Responding to a BBC Scotland survey, 10 out of 12 Scottish Premiership clubs and 28 out of all 42 senior clubs said they would consider summer football.
St Mirren are one of those who support a change and Gilmour said it had been backed up by responses from their supporters on their website and in emails.

Gilmour, who is more in favour of a winter shutdown, told BBC Scotland: "I'm not 100% sure about us playing right through the summer.
"I think we would have a problem about how we repair the pitches. That could be one of the big issues, as well as holidays, etc, but it is a subject we need to visit.
"There is no easy answer to this. We don't play competitive football in July, which I find strange when we've got all our clubs trying to compete in the Europa League and Champions League at an early stage."
Gilmour thinks there are a number of reasons to avoid playing at the height of winter, despite problems highlighted by Scottish Professional Football League chief executive Neil Doncaster.
"We played seven games in January last year in extreme conditions - just crazy," he said.
"You wouldn't take children into that, sitting in minus two or minus three degrees, or elderly people.
"We complained about the state of the pitches at the end of the season.
"That was caused by undersoil heating being on at most clubs for six weeks almost consistently."

Gilmour also backs expanding the number of clubs in the top flight.
"When we play the Old Firm eight times a year, nobody else is going to win the league bar Rangers or Celtic," he suggested.
"If you go back to only playing them twice, you've got a chance and that was said to me by a senior coach in 1998."
Dundee manager Paul Hartley also thinks a larger Premiership would increase competition - and fan interest - and backs a winter shutdown.
"I am all in favour of it - to have January/February off," he said. "We have to try to change something to get more supporters to our games.
"You see the state of the pitches in December/January/February. We don't get good football.
"I quite like 16 teams. We still have strong teams in the Championship."