Paul Cox: Torquay United name ex-Mansfield boss as manager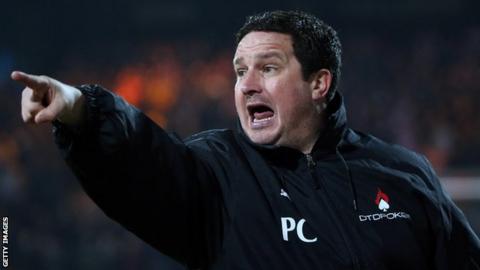 Torquay United have appointed Paul Cox as their new manager.
The 43-year-old has been out of work since leaving Mansfield by mutual consent last November and succeeds Chris Hargreaves as Gulls boss.
"Paul Cox has all the credentials we're looking for," chairman David Phillips told BBC Sport.
"He's been there and done it, he got Mansfield out of the Conference and into the league and that's what we want him to do with us," Phillips added.
Cox led Mansfield to the Conference title in 2013 and then guided them to an 11th-placed finish in League Two.
Hargreaves left Torquay at the weekend after being put on gardening leave, having failed to come to an agreement with the club's new owners over pay.
The consortium, which took over at the National League club last week, had asked Hargreaves and his coaching team to take a substantial pay cut.
Torquay takeover timeline
21 January: Former Oxford United chairman Kelvin Thomas brought in to help sell Thea Bristow's stake in the club.
30 March: Thea Bristow leaves her role as chairman early, having said she would stay on until the end of the season.
26 May: Torquay board consider three offers for the club after buying Thea Bristow's 80% stake for £1.
28 May: Consortium of 10 local businessmen given seven-day exclusivity period to negotiate a deal to buy the club.
5 June: Consortium lodges bond with National League to guarantee their entry for the season
12 June: Takeover is completed and new board takes control
14 June: Boss Chris Hargreaves 'placed on gardening leave'
17 June: Paul Cox takes over as manager
Torquay's new board has been trying to cut costs at Plainmoor since taking over and have already closed the club's youth academy.
"There won't be a high budget, because of the circumstances in the club," added Phillips. "But the man is experienced, I'm sure he has got some good contacts and we can pick up players for reasonable money and the loan market will come into play.
"I can't say what the budget will be. It won't be on the high side, but I'm sure we'll manage."
Cox's first job will be to add to Torquay's squad - the club currently has just nine contracted players.