Fifa disappointed as Nobel Peace Center ends handshake initiative
Last updated on .From the section Football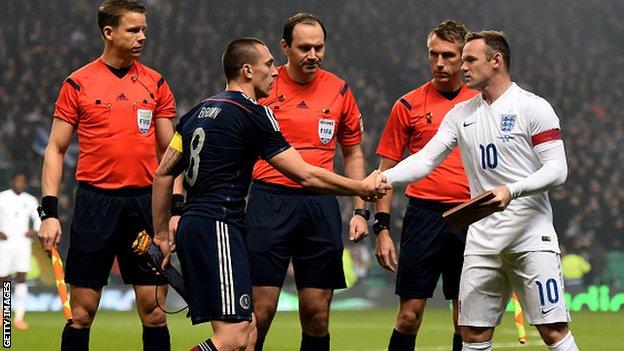 Fifa says the Nobel Peace Center has hampered "peace-building and anti-discrimination" by withdrawing from the Handshake for Peace initiative.
The initiative was intended to promote a message of peace, with handshakes between team captains and officials before matches.
But the Oslo-based NPC is ending its work with football's world governing body after corruption allegations.
"This action does not embody the spirit of fair play," said Fifa.
"It obstructs the promotion of the key values of peace-building and anti-discrimination."
Fifa said it was "disappointed", adding it was "reluctant to accept this unilateral approach on what is a joint initiative between the football community and the Nobel Peace Center".
It said president Sepp Blatter had spoken on Tuesday to NPC executive Bente Erichsen, who "continued to believe in this initiative and hoped it would live on in football with Fifa".
The Handshake for Peace will continue to be seen at games, it added.