Sandro: QPR's Brazilian midfielder did not have work permit
Last updated on .From the section QPR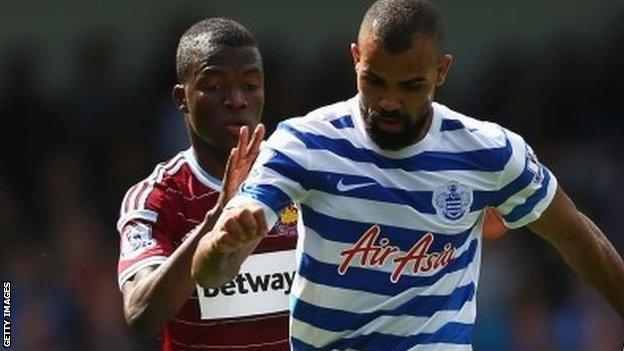 QPR's Brazilian midfielder Sandro did not have a work permit last season although the club deny he has been deported.
The 26-year-old - reportedly signed for £10m - did not have the necessary paperwork, the Sun newspaper revealed.
A QPR statement said: "The club is in dialogue with the Home Office in a bid to resolve the matter."
Rangers said Sandro is on holiday in Brazil and, contrary to the report, had not been told to leave the UK.
He tweeted: "Hope everything will be sorted soon. Love England too much."
A Home Office investigation revealed QPR midfielder Sandro did not have a work permit and it has suspended Rangers' sponsor licence, which allows clubs to apply for visas for players from non-EU countries.
Without the licence Rangers can still sign players from non-EU countries but they cannot play until the suspension is lifted. Sandro cannot play until he has a working visa.
Rangers, Sandro & the Home Office
QPR have 20 working days from 11 June to submit written representations in response to the suspension of their sponsor licence
Once any representations are received, the Home Office has a further 20 working days to make a decision on the licence
It is understood the visa issue was an oversight on QPR's part, following Sandro's transfer from Spurs, rather than any deliberate attempt to flout the rules.
There are not thought to have been any work permit issues relating to his time at Tottenham
A Home Office spokesperson said: "Sports clubs that benefit from the immigration system must ensure they have robust compliance systems in place or risk losing their privilege to sponsor players and workers.
"We continually monitor all sponsors on the register and we will take action where we find evidence that compliance duties are not being fulfilled."
Last month, QPR said they were told of an issue with his UK residency visa and were advised not to select Sandro for their Premier League game at Manchester City.
Sandro, who scored once in 17 appearances for the west London side last season, missed the match at Etihad Stadium which saw Rangers relegated after a 6-0 defeat, and he did not play in their final two games.
An Olympic silver medallist with Brazil at the London 2012 Olympics, he joined Rangers from Tottenham in September 2014, having spent more than four years at White Hart Lane.
He linked up again at Loftus Road with then Rangers manager Harry Redknapp, who signed him for Spurs from Internacional.