Euro 2016: David Wilson hopes to avoid Scots showdown
Last updated on .From the section Football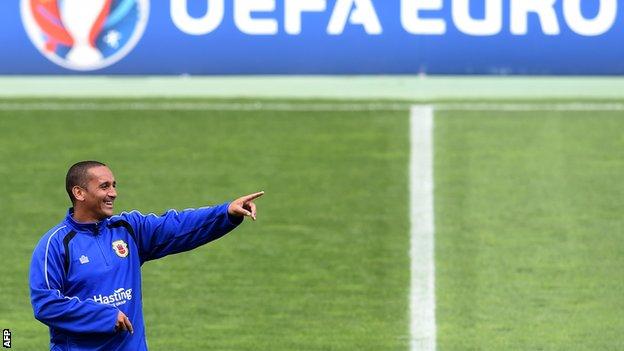 David Wilson is praying that Scotland have qualified for the Euro 2016 finals before they face his Gibraltar side in their final Group D fixture.
"They've got to qualify before they play us in their last game," Gibraltar head coach Wilson told BBC Scotland.
"I'm not saying we are going to do any damage, but as a Scotsman that's the kind of thing we've done in the past - fall at the final hurdle."
Wilson's belief has increased during the campaign that Scotland, who sit third behind Poland and Germany, will qualify for next summer's finals in France.
"There is a big part in my heart that's praying that they do," said the former Kilwinning Rangers player whose side were hammered 7-0 by the Germans on Saturday.
Wilson said the world champions were frustrated to be only 1-0 ahead by half-time.

"I don't think they were happy that they were shown up a little bit at times," he said before praising Scotland manager Gordon Strachan for his courtesy after Gibraltar's 6-1 defeat at Hampden in March.
"It wasn't the same level of honesty and respect that Mr Strachan gave us. He was fantastic.
"He came into the dressing room after the game and congratulated the players.
"It was a surreal moment. You get that in Sunday football or amateur football - the guy knocks your door and pops his head round and says 'well played'.
"Gordon came in and had a chat with all the players and, in his words, said 'I'm not here to patronise you, but you showed in that first half that you can play football and attack. You made an old man much older and gave me a very long day'."
Wilson moved up from his post as assistant after Allen Bula was dismissed following four opening defeats and, despite another two heavy losses, the former Royal Navy man insists his squad of mainly home-grown semi-professionals are improving.
Indeed, he has encouraged them to express themselves more having been previously set up "to park how many buses we could against teams".

"At the level of football we're taking these players from, we're not just jumping up one step, we are jumping up a couple of flights," said Wilson, who said he is "living a dream" as an international boss.
"No players can come away from a 7-0 defeat happy, but we have to take every little positive because it's our first ever venture into this level of football.
"That 1-0 at half-time was a massive improvement for us.
"Someone asked me what philosophy have you changed. It is not that we've changed philosophy.
"These players are talented. They've got some talent and they can go forward.
"They've just not got the energy levels or the conditioning that the Scottish, Irish or German players have.
"All we've done is unshackle them and say 'let's accept we are going to get beat, but let's show the world that you can get beat going forward'."