Fabio Capello: Russia fans start campaign to buy out boss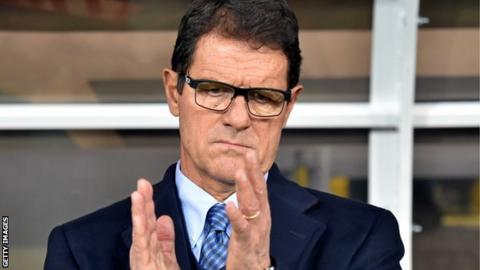 A group of Russian football fans are attempting to raise 21.4m euros (£15.5m) to buy national team manager Fabio Capello out of his contract.
Ex-England boss Capello's future has come under scrutiny, with his side struggling to qualify for Euro 2016.
And now a fundraising website has been set up called 'Fabio go home'.
A statement on the site read: "Recent public surveys show the vast majority of the country's football lovers want Capello to step down."
It continued: "But to do that the Russia's Football Union (RFU) needs to pay Capello a serious penalty for the cancellation of his contract - 21.4m euros."
The group behind the site stated they had no relation to any official organisations.
Capello, 68, was appointed in July 2012 and is contracted until the 2018 World Cup, which is due to be staged in Russia.
Russia failed to win a game at last year's World Cup in Brazil and have eight points from six games in their Euro 2016 qualifying campaign.
Sunday's 1-0 defeat by Austria left them third in Group G and they are facing the prospect of needing to win a play-off to reach the tournament.