Dundee: Bill Colvin steps down as chairman and director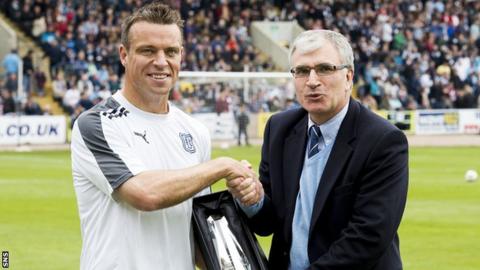 Bill Colvin is stepping down from his role as Dundee chairman and director.
The club said in a statement that Colvin's other business commitments had "greatly restricted his time availability for the football club".
Colvin became chairman in 2013, having first become a shareholder with his wife, Pam, two years previously as the club were coming out of administration.
His shares have been acquired by other members of the consortium that took control of the Dens Park outfit.
Tim Keyes is joining Dundee's board, subject to satisfying the Scottish FA's fit and proper person guidelines. The club hope to confirm this at next month's board meeting.
Dundee won promotion to the Scottish Premiership by winning the Championship last year and the Dark Blues achieved a top-half finish in 2014-15.
"The football club is in a much better financial position and a more stable managerial position than it was when Pam first got me involved back in late 2010, early 2011," Colvin told the Dundee website.
"This season's top six SPFL finish is where this club should be and I was delighted to see all the hard work done by John Nelms, [manager] Paul Hartley and the rest of the team at Dens Park paying off for the fantastic Dee fans.
"I know I leave the club in the very safe hands of John and particularly the Keyes family who will be superb custodians of this famous football club."
Managing director Nelms and Keyes said in a statement: "On behalf of the fans, staff and board of directors, we would like to thank Bill Colvin for his contributions to the success of the Dundee Football Club through his partnership with Football Partners Scotland.
"Bill and Pam have been an integral part of this organization since 2011 and will always be a part of the DFC fabric. We wish the Colvins every success in their endeavours and hope to continue to see them both at Dens Park.
"The board and staff will continue to build upon the success that we have achieved over the past 22 months with the aim to remain in the top six of Scottish football for years to come."