Arturo Vidal: Juventus & Chile player freed after crash
Last updated on .From the section European Football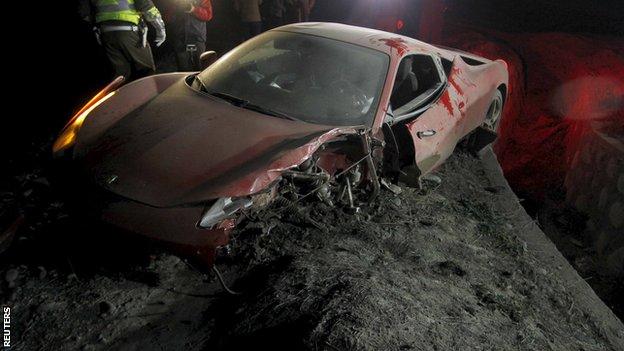 Juventus and Chile midfielder Arturo Vidal has been released from police custody after his arrest for crashing his car, allegedly while drunk.
The 28-year-old, who is the leading scorer in the 2015 Copa America taking place in his home country, crashed his Ferrari in Santiago late on Tuesday.
Vidal, who suffered minor bruising, has had his driving licence suspended, but will retain his place in Chile's team.
"I let everyone down," a tearful Vidal said as he was released.
However Chile coach Jorge Sampaoli said that some public reaction to the accident had been out of proportion.
"I don't think it's as major as some have said," said coach Jorge Sampaoli.
"We have not decided to suspend him."
Chile's next match is against Bolivia is on Saturday at 00:30 BST.
According to local media reports, Vidal and his wife Maria Teresa Matus collided with another car as they drove home from a casino.
They were treated in the emergency room at the San Luis de Buin hospital in the Chilean capital.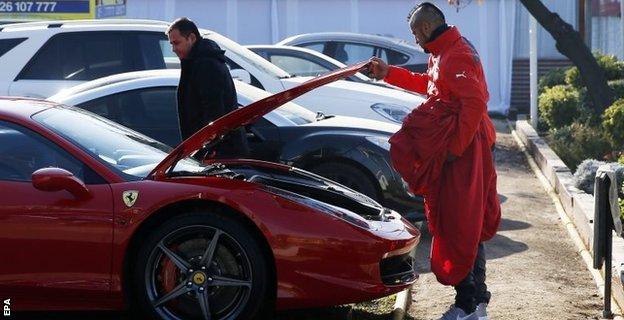 Without revealing the level of alcohol in his system, police colonel Ricardo Gonzalez said the player was "under the influence" at the time of the crash.
However, Vidal posted a message on Youtube claiming the accident was not caused by him.
"It was not my fault. I'm fine, my family's fine. Thank you for everything," he said, giving a thumbs up.
As part of his punishment, Vidal will have to report to the Chilean consulate in Milan on a monthly basis when he returns to his Italian club.
He is the Copa America's leading scorer with three goals in two games, having netted twice in Chile's 3-3 draw against Mexico on Monday and also scored in his side's opening win against Ecuador last week.