West Ham: David Gold says Hammers 'will fill Olympic Stadium'
Last updated on .From the section Football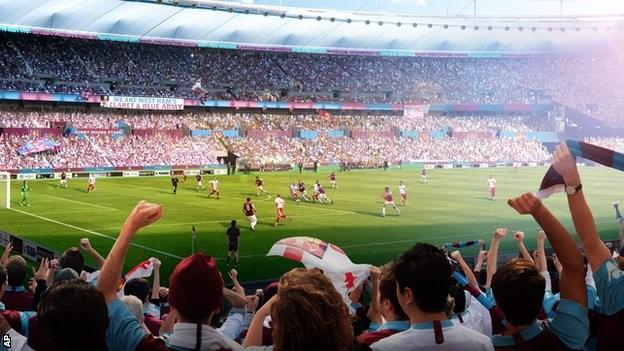 West Ham expect to have capacity crowds at nearly all of their matches at the Olympic Stadium, co-chairman David Gold has told BBC Sport.
Gold wants the Hammers to "worry" the big five Premier League clubs after moving from the Boleyn Ground to their new 54,000-capacity home next year.
And he believes new boss Slaven Bilic will "galvanise" players and fans.
Gold said the club wants to win the Europa League and hopes Andy Carroll will feature in the early stages.
Grounds for optimism?
West Ham are preparing for their final season at the Boleyn Ground, with the fixtures released on Wednesday revealing Swansea will be the last Premier League visitors to Upton Park, in early May.
"Leaving the Boleyn Ground will be an emotional time. It will be a momentous event for anyone affiliated to the football club," said Gold, who grew up in Green Street, yards from the East London ground.
The Hammers will go from playing in front of 35,000 fans to the potential of nearly 20,000 more, so can they fill their new home?
"Obviously, attendances have a lot to do with performances on the field, but taking all things into account we are optimistic of filling the stadium, 99% of the time," said the 78-year-old, who owns the club with David Sullivan.
"Every time we get an update on ticket sales, they are the best we have experienced. All the targets we have set ourselves are being met."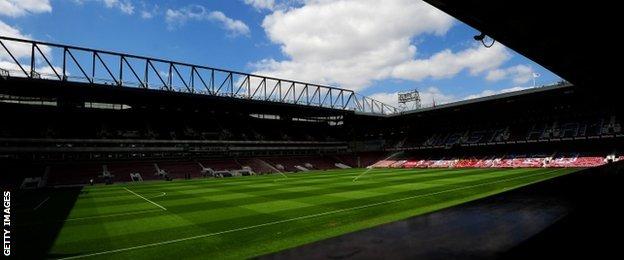 The Olympic dream
Gold points to improved transport links, location and facilities as reasons why he believes the new ground will be attractive to spectators.
"Upton Park has two underground lines. At the Olympic Stadium, there are five train stations within a 10-minute walk of the ground and 13 lines that come into Stratford," he said.
"There are towns all over Kent, Essex and further afield where the journey into Stratford will be a different experience.
"One fan wrote to me and said he was coming in from Ashford and he'll save an hour each way on his journey. Even coming in from Europe will be easier."
He said many season tickets would be the cheapest in the Premier League to "encourage younger fans".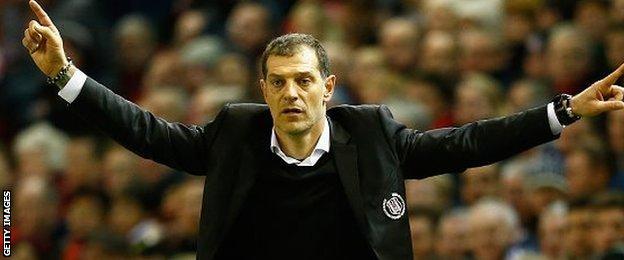 All change at West Ham?
The Hammers have appointed Slaven Bilic as their manager following the departure of Sam Allardyce, 60. Is it a risk?
"I don't personally have a fear of that," said Gold.
Croat Bilic, 46, has experience of managing his national side, plus spells with Lokomotiv Moscow and Besiktas. He played 54 times as a defender for West Ham from 1996-1997 before signing for Everton. But he has never managed a Premier League side.
"I think there's a risk with any appointment. Some of the great managers with great records don't always come off in the Premier League," said Gold.
"He doesn't have experience as a Premier League manager but he does as a player. What he will lack in years of experience, he will make up for with youthful dynamism."
Attack, attack, attack
The club set out a list of criteria when seeking Allardyce's replacement - they wanted a manager capable of winning a trophy, bringing the young players through and playing attractive football - the so-called 'West Ham way'.
"I think we are going to see attacking football," said Gold. "With the players we have, and others coming in, we will have a natural attacking bias in our squad.
"I like Slaven's passion. The box he ticks above other managers is that he is an ex-West Ham player, but you can look at a manager's CV and sit there with your boxes and tick here and there - you cannot see what they are really like until you are face to face.
"He interviewed well, and last week we went to the Olympic Stadium, spent half a day with him and it was a good feeling. I like the way you can have chemistry between people. He is a relatively young man with drive and desire."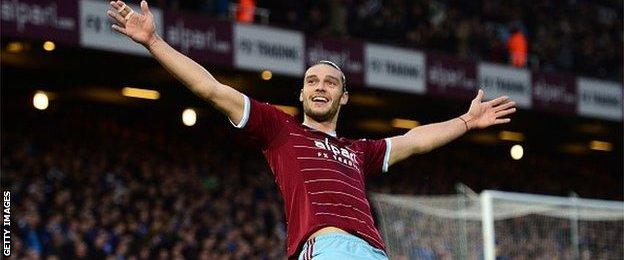 Carroll's comeback
Injury-plagued striker Andy Carroll is back in training following knee surgery in February, and the Europa League could offer him a chance to return to full fitness.
"When he heard we were in the Europa League, he saw it as a great opportunity. It couldn't have come at a better time for him," said Gold.
The Hammers' first game will be on 2 July, and they are likely to field a mixture of first-team regulars and younger players.
"I'm hoping we don't have to play all of our first team in the opening games. I would hope Andy will be playing in one of those early matches," said Gold.
"It will be good for players like him, Diafra Sakho and Enner Valencia, who are itching to get back on the pitch. It's a great opportunity for Diego Poyet, who hasn't had as much playing time as he would like."
Andy Carroll's injury record at West Ham
September 2012:
Injures hamstring in his first game on loan - out for a month
November 2012:
Twists knee against Manchester United - sidelined for two months
May 2013:
Damages heel in the last game of the season - out for seven months
July 2014:
Tears ankle ligaments in pre-season - out for four months
February 2015:
Knee surgery - set to miss rest of the season
Taking the Europa League seriously
West Ham qualified for the Europa League via Uefa's Fair Play system and will find out their first qualifying round opponents in Monday's draw.
"I really take this tournament seriously and I want to win it," said Gold.
"We've got to prepare ourselves for plenty of games and hope we don't get too many injuries.
"We saw it last season with a fabulous start, then players started dropping like flies before we finished a disappointing 12th."
Europa League in numbers
23:
Number of matches West Ham would have to play to win the competition
6:
Games before the Premier League starts
48:
Number of teams in the group stage - 16 already qualified, 22 from qualifying, 10 from Champions League
Strengthening the squad
Bilic will be given money to bring new players in, although one immediate priority lies with a star of last season.
The Hammers are keen to reach a deal with Arsenal for defender Carl Jenkinson, who they had on loan but also interests Sunderland.
"We know we need a right-back and will work tirelessly to bring in Carl. If that does not work out, we have other irons in the fire," said Gold.
"We said to Slaven 'get your priority list and let's see what we can do'. We have a track record of working with our managers."
'Worrying' the Big Five
Gold said: "We are hoping West Ham will be in a position very soon to worry the top five and have them saying: 'Who are these upstarts? Who do they think they are?'
"As far as challenging these great clubs, it's very very hard. Southampton challenged last season, and there's absolutely no reason why West Ham can't emulate them.
"There is a big difference between realism and hope. Realistically, in the next five years we would expect to be knocking on the door of Europe, whether that's by finishing seventh or eighth or by winning the FA Cup or reaching the final.
"The longer-term aim is we want to frighten the big boys of Chelsea, Manchester City, Manchester United, Arsenal and Liverpool. We want the Big Five to be looking over their shoulders."