Women's World Cup: England set for last 16
Last updated on .From the section Women's Football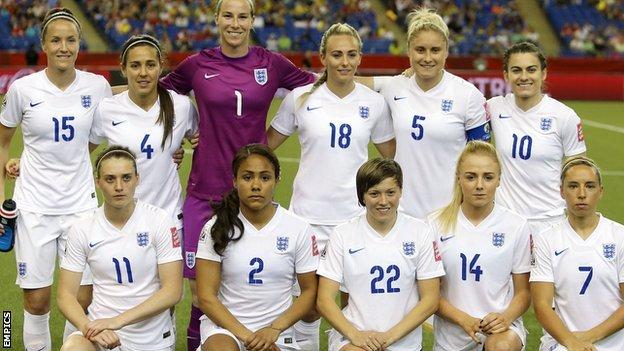 England sealed their place in the last 16 of the Women's World Cup with a 2-1 victory over Colombia in Montreal on Wednesday night.
But who will they meet next? And how far can they go?
BBC Sport looks at the road ahead for Mark Sampson's Lionesses as an engrossing group stage comes to a close in Canada.
How have England performed so far?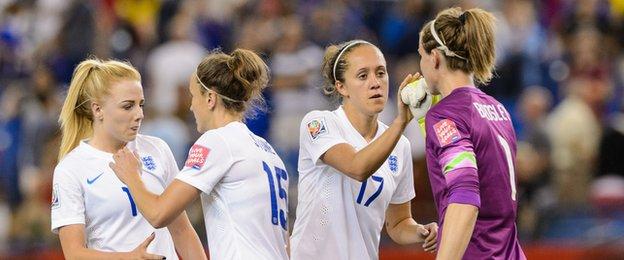 Former England winger Rachel Yankey: "The England that played against Colombia was the England we wanted to see. It was fantastic, we were so positive, everyone wanted to get back, everyone wanted to defend.
"We were disappointed in the first game against France, when we lost 1-0, but that 2-1 win has really shot us up. Everyone back home wants to see us playing in that sort of spirit."
Former England goalkeeper Rachel Brown-Finnis: "Throughout the tournament England have grown in confidence. After a disappointing start against France they took the game to Mexico, they took the game to Colombia, they have changed up a gear and are a lot better to watch. More of that please Mark Sampson.
"Sampson's style and his tactics are a complete contrast with that of the previous manager, Hope Powell, but I do think he has proved himself. He's been very positive."
BBC Sport's Alistair Magowan: "Sampson said before the defeat by France that he didn't want his team to peak for their opening game against one of the tournament's hotly tipped teams.
"After an uninspiring display, the Welshman got his wish - since then the team have raised their standards in each of their subsequent wins over Mexico and Colombia.
"Fran Kirby made her first World Cup start against Mexico and opened England's account before being hailed as a 'Mini Messi'. Karen Carney came on to change the game, scored the second and then continued in the same vein with another against Colombia.
"For Sampson, it appears it is all going to plan."
What are England's chances in their second-round tie?
England face Norway in Ottawa on Monday, 22 June. Kick-off is at 22:00 BST and the game will be live on BBC Three.
Women's football writer Catherine Etoe: "Norway will be a tricky proposition for England and their head coach Sampson. Even Pellerud's side have more than held their own thus far in the tournament, restricting world number ones Germany to a draw while disposing of debutants Thailand and Ivory Coast comfortably.
"England may have 21-year-old Fran Kirby, but Norway have their own stylish talisman in the form of 19-year-old striker Ada Hegerberg, an ever-present thus far with three goals.
"Norway boast experience, too, in the form of 34-year-old midfielder Solveig Gulbrandsen, who inspired a second-half fight-back against Germany after coming on as a substitute.
"The relatively inexperienced Sampson will need to be as on his mettle as his players; exactly 20 years ago Pellerud won the Women's World Cup with Norway, two years after lifting the Euro trophy. The 62-year-old gained even more Women's World Cup nous when he left Norway, taking Canada to two editions of the tournament, achieving a fourth place finish with the Canucks in 2003.
"Soon after his return to Norway for a second time, he led them to the final of the 2013 Women's Euro, losing by a single goal to Germany. His sights will undoubtedly be set on a podium finish in Canada."
Liverpool striker Natasha Dowie: "I have been really impressed by Norway but England will be confident. The girls came into this World Cup stating that they want to win it, and this is the knockout stage now, it's exciting.
"Over each of their games so far the performances have been improving, and hopefully that will be taken into the Norway game."
BBC Sport's Alistair Magowan: "It would perhaps be unwise to get carried away with wins over Mexico and Colombia - teams ranked 25th and 28th in the world respectively.
"But the players have been saying the tournament is wide open and there is no reason why England cannot use their momentum to improve further against 11th-ranked Norway."

Which players and teams have caught the eye?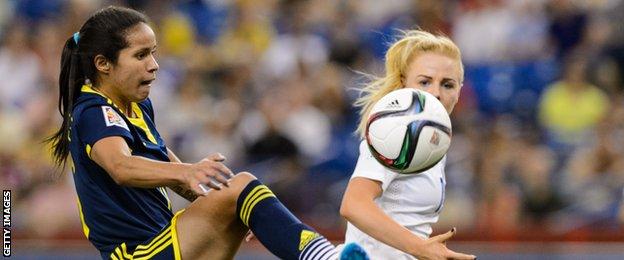 Former England goalkeeper Rachel Brown-Finnis: "Colombia forward Lady Andrade has been stunning in this tournament. In their game on Wednesday, England showed her a lot respect and doubled up on her.
"And I've also been impressed by Cameroon's number seven, Gabrielle Onguene. She has lightning pace, great trickery and scored one and set up another in their final group match against Switzerland. She has been a standout player for me.
"But the real powerhouses have been Germany. They have been clinical - they scored 10 goals in their first game - and have so much experience throughout their side. They will be out to prove a point to a nation that has huge expectations of them."
Former England player Sue Smith: "Lady Andrade is a massive player for Colombia. A crowd pleaser, one that loves the crowd, loves a trick."
Who has been a disappointment?
Former England goalkeeper Rachel Brown-Finnis: "Canada have flattered to deceive. They came into the tournament with big hopes, but stuttered initially playing under the pressure of being on home turf. But I think they have more to give, though.
"The USA, for all the hype and talk they create around themselves, have not been firing on cylinders either - and perhaps it's the pressure of being close to home that's affecting them."
BBC Sport's Alistair Magowan: "Hosts Canada have not so far lived up to the heights of the London 2012 Olympics, where they were denied a place in the final by a United States injury-time goal.
"True, captain Christine Sinclair, 32, scored a stoppage-time penalty to seal victory in their opener against China, but it has been some of their younger players who have excelled amidst the pressure of being the host team.
"Teenager Kadeisha Buchanan has been a rock at the back, while Sophie Schmidt has sizzled in attack. Canada's English coach John Herdman insists that Sinclair can still deliver, and with Schmidt picking up an injury in their last group game against the Netherlands, he really needs her to contribute."
What's been the best/worst thing about World Cup so far?
Former England goalkeeper Rachel Brown-Finnis: "One of the best things for me so far has been the performance of two of the African nations, Nigeria and Cameroon, who have perhaps shocked a few with some excellent results.
"And the expansion of the competition to 24 teams has been a real high point from the outset. It's a great opportunity for us fans to see nations we have never seen compete in tournaments like this before.
"As for low points, I'd say England's tactics in the first game against France. But they've moved on from that."
BBC Sport's Alistair Magowan: "Many were sceptical about expanding the Women's World Cup to 24 teams, worrying that it would make no change on the established order. There have been some hidings, Germany's 10-0 rout of Ivory Coast being one example, but overall the tournament has witnessed several shocks and with three of eight debutants making it through to the knockout stages, Fifa's mandate to grow the game has succeeded in some part.
"Unfortunately, World Cup fever hasn't gripped the whole of Canada. A country obsessed by ice hockey and basketball, whose finals have taken place simultaneously during the group games, means that outside of the hosts' matches, attendances have been mixed. But with TV audiences setting new records and as teams begin the knockout stages, there is still time for Canada to get excited, especially as the hosts are through."
What are the second-round ties to watch out for?
Round-of-16 draw

Saturday, 20 June:

Germany v Sweden (21:00 BST)

China v Cameroon (00:30, Sunday)

Sunday, 21 June:

Brazil v Australia (18:00)

France v South Korea (21:00)

Canada v Switzerland (00:30, Monday)

Monday, 22 June:

Norway v England (22:00)

USA v Colombia (01:00, Tuesday)

Tuesday, 23 June:

Japan v Netherlands (03:00, Wednesday)
Women's football writer Catherine Etoe: "Arguably the pick of the second-round ties is Germany against Sweden in Ottawa on 20 June.
"The memory of Sweden's loss to Silvia Neid's Germany two years ago in the semi-final of Euro 2013 will burn bright in the memory of head coach Pia Sundhage.
"That loss, settled by the slimmest of margins thanks to a Dzenifer Marozsan goal, crushed Sweden's dreams of a Euro title on home soil.
"But the history between these two sides goes back further than that; rewind 12 years and you find Germany again sneaking a victory over the Swedes, that time with an extra-time win in the final of the Women's World Cup. The 38-year-old midfielder Therese Sjogran played that day in Los Angeles; Sweden's most capped player will be eager to see her side avenge both defeats in this, her final Women's World Cup.
"Chelsea fans will be thrilled to see their talismanic midfielder, Ji So-yun, the 'Korean Messi' take on the might of France, whose number includes the 'female Zidane' Louisa Necib, a player who can dazzle opponents but is yet to get into her stride in this Women's World Cup."