Newport County: Les Scadding resigns as Exiles chairman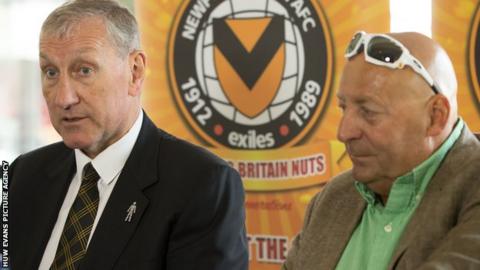 Les Scadding is stepping down from the board of Newport County with immediate effect.
Scadding, who won a £45m EuroMillions jackpot with his ex-wife in 2009, has spent about £1.25m on Newport since becoming chairman in August 2012.
But the 58-year-old said in February he would stop bankrolling the club in the long term.
"I leave... in the knowledge that I have contributed to [Newport's] promotion and development," he said.
"Over recent times I have been actively seeking and negotiating with parties interested in coming on board with additional investment and/or sale of my shares, from both national and international interest.
"Unfortunately, no deal has been struck to date, however, I remain hopeful that this will happen in due course and will be to the benefit of the club."
Newport County ended the 2014-15 season in ninth place in League Two, narrowly missing a place in the play-offs.
Former England defender Terry Butcher was appointed County manager in May and Scadding said he would have have less money at his disposal than predecessor Justin Edinburgh.
Scadding said he had chosen to stand down in the close season, to avoid unnecessary disruption and give everyone involved in the club time to establish themselves.
"I have thoroughly enjoyed my time at Newport County AFC and would like to thank absolutely everyone who has contributed, supported and been loyal to me and the club during my tenure," he added.
"We have shared such momentous times together, they will live long in my memory. However I now intend to retire, spend most of my time overseas and devote my time to my family. I wish the club and all those who are custodians of it, all the very best of luck in the future."