Fifa: Belgium may claim over failed 2018 World Cup bid
Last updated on .From the section European Football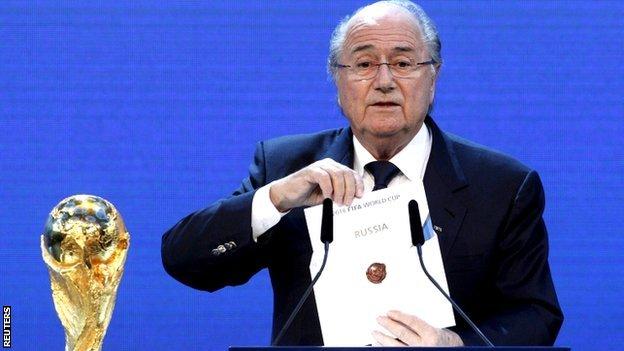 Belgium may seek compensation for their unsuccessful 2018 World Cup bid if Fifa's decision to award Russia the tournament is overturned.
In addition, Fifa is also looking into alleged rules breaches relating to the two tournaments by officials.
Belgium spent £3.2m on their bid, which was a joint one with the Netherlands.
In total, the two countries spent a combined £6.5m on their bid.
"If fraud is proven it is obvious to me that we will seek compensation," said Belgian Football Federation chairman Francois de Keersmaecker according to Het Nieuwsblad on Thursday.
Senior Fifa official Domenico Scala has said the decisions to award the 2018 and 2022 World Cups could be cancelled if evidence emerges of bribery.
Both Russia, hosts in 2018, and 2022 hosts Qatar deny any wrongdoing.
England were also unsuccessful in bidding for the 2018 World Cup which cost the FA £21m.
Russia won the right to host the event after earning 13 votes, ahead of the Spain-Portugal bid on seven, Netherlands-Belgium two and England two.