Newport County step up search for investors after Scadding leaves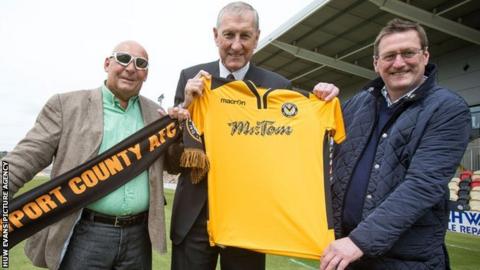 Newport County say they'll have to "cut their cloth" following Les Scadding's departure as chairman.
County will step up the search for new investment after EuroMillions winner Scadding stepped down from the board.
Director Howard Greenhaf admits they have struggled to find people willing to invest in the League Two club.
"There aren't that many people out there willing to take on a football club or the liabilities of a football club," he said.
Scadding, who won a £45m EuroMillions jackpot with his ex-wife in 2009, has spent about £1.25m on Newport since becoming chairman in August 2012.
But he announced back in February he wanted to stop bankrolling the club in the long term.
"We had known for quite a while that he had been looking to retire," added Greenhaf.
BBC Radio Wales' Simon Davies:
Scadding's departure raises some pressing questions about the future of Newport County and how they can continue to compete as a Football League club. Whether the board can attract further investors with similar wealth to Scadding is unclear but whatever happens, the flamboyant lottery winner leaves a big absence to fill at Rodney Parade.
"We've been trying to find investment for several months, someone who could take the club to the next stage.
"We've been unsuccessful so far, but we're still looking.
"It is difficult to find someone to come on board. It's not as if we own a big stadium or multi-million pound players.
"Hopefully someone will come on board and help us. We've certainly never turned anyone down."
It is believed County were dealing with a monthly deficit in the region of £30,000 to £40,000 last season, a shortfall made up by Scadding.
Former manager Justin Edinburgh was told that Scadding's continued investment was set to end and the County manager's budget for next season would be cut from an annual amount of around £1.4m to £900,000.
In January Edinburgh left Rodney Parade to join League One Gillingham, though he denied the planned cut in his budget was a factor in his departure.
Greenhaf said Newport would have to find other methods of plugging financial shortfalls, insisting County fans had no reason to fear for the future.
"We had great support from Les, and had an increased budget because of him.
"It's obviously a blow to lose that, but we've just got to cut our cloth accordingly.
"We would hope to have a slush fund (to cover any shortfalls), or we would go to the bank.
"There will be clubs in League Two with bigger budgets than us, but there will be clubs with smaller budgets.
"Terry [Butcher] knew what the budget was when he came in, and it's down to him to deliver on the field.
"The fans shouldn't worry at all."