Women's World Cup: Norwegian media boast before England game
Last updated on .From the section Women's Football
Norwegian media have re-ignited the rivalry between England and Norway before Monday's World Cup clash in Canada.
Taking inspiration from the famous TV commentary of 1981 - after Norway's men had recorded a shock win over England - Norwegian newspaper VG Sporten asks if Mark Sampson's team "are ready for a hell of a beating" in Ottawa.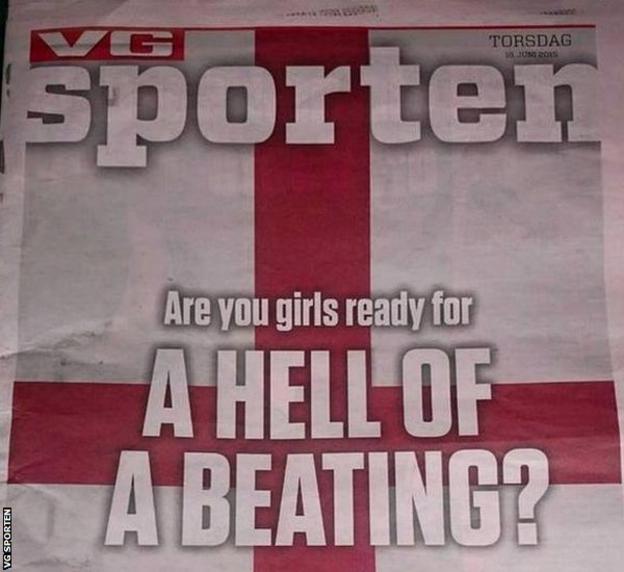 Thirty-four years ago, Bjorge Lillelien celebrated Norway's unexpected victory in a World Cup qualifier in Oslo by referencing Winston Churchill, Margaret Thatcher and Princess Diana in what has been called the finest moment of football commentary.
He trilled: "Lord Nelson! Lord Beaverbrook! Sir Winston Churchill! Sir Anthony Eden! Clement Attlee! Henry Cooper! Lady Diana!
"Maggie Thatcher, can you hear me, Maggie Thatcher! Your boys took one hell of a beating! Your boys took one hell of a beating!"
England set up Monday's last-16 clash with Norway in Ottawa by finishing second in group F with wins over Mexico and Colombia.
Norway finished second in Group B with seven points from three games, including a draw against much-fancied Germany, who finished top.
Some of Norway's squad have also taken part in a mockumentary for television station NRK in the build-up to the game.
Trine Ronning, Emilie Haavi and Ingrid Hjelmseth are among the players who come up with bizarre ways for improving the women's game.
These include using golf tees to help them kick the ball further, making the pitch smaller and allowing three goalkeepers at once.