Scottish football should consider Rugby League blueprint - Wood

By Andy Burke
BBC Scotland
Last updated on .From the section Football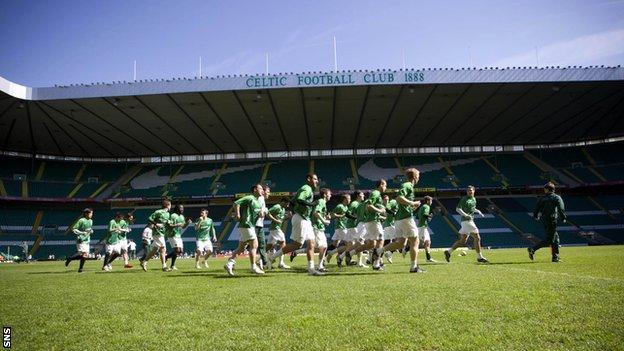 The chief executive of the Rugby Football League has urged Scottish football to keep an open mind on a switch to a summer season.
Rugby league moved away from a winter season when the Super League was formed in 1996, and RFL chief Nigel Wood says it has been a successful transition.
"It has to be thought through, but most things are surmountable," said Wood.
He argues that the move to a summer season has seen a positive impact on fans, with attendances rising from an average of 5,000-7,000 to 9,000-11,000 since the switch.
"There had been a discussion for some time whether a change of season would have a positive impact on the commercial fortunes of the sport," he told BBC Scotland.
"One of the key factors was spectator comfort, and the environment that would allow spectators the most enjoyable experience. Sitting out in the warmer weather, short sleeves watching sport is an attractive thing to do. It was more spectator comfort than the playing of fixtures.
"Rugby league, football, most sports - the seasons last nine months. It's really what months would you rather not play in. The conclusion we came to is we would rather not play in December, January and February.
"Undoubtedly there has been a positive impact on spectator numbers, and I suspect and believe there's been a positive impact on spectator enjoyment."
Wood concedes that it would be more difficult for Scottish football to make a switch as they have the Uefa/Fifa calendar and competitions to consider, whereas Rugby league has no such body and can make decisions and changes more swiftly.
"One of the advantages we perhaps have over other sports is we can move fairly quickly, we don't have huge global governing bodies to navigate our way through," continued Wood. "So we have a degree of self determination.
"You do have to be mindful of all the consequences of this kind of thing because in every alternate year in football in particular there's a World Cup or a European Championship. You have to make sure that doesn't disturb your league season.
"Most things are surmountable as long as the benefits outweigh the disadvantages."