Sepp Blatter: Fifa president backs integrity checks
Last updated on .From the section Football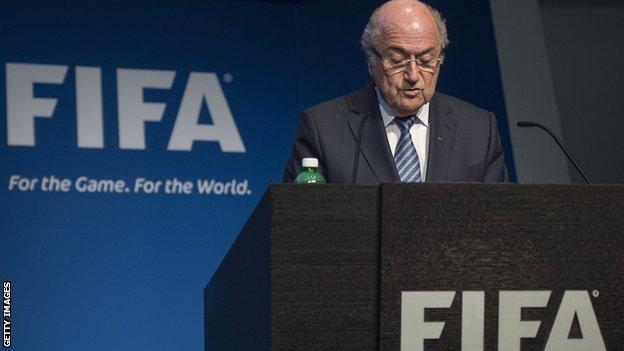 Outgoing Fifa president Sepp Blatter is backing a proposal for the world governing body's top officials to pass integrity checks.
Fifa's executive committee will discuss the proposal in Zurich on 20 July, when it will also set the date of the new presidential election.
Blatter said "decisions on extensive changes to the Fifa structure" will also be taken then.
He added the test had previously been blocked by European federation Uefa.
The idea has been put forward again by Fifa executive committee member Wolfgang Niersbach of Germany.
Blatter, who passed an integrity test in February, said: "Confederations are meant to screen officials but a new system would likely see Fifa's ethics chairmen assessing them more rigorously."
On 2 June - only four days after being elected for a fifth, four-year presidential term - Blatter announced plans to step down amid investigations into alleged corruption involving some Fifa officials.
There have been suggestions he might seek to stand again, but Fifa said he stands by that statement of intent to step down.
"The future of Fifa has begun," Blatter added. "The key is to strengthen democracy within the Fifa government."
Highlighting how Asia was the only regional body with an independent ethics body like Fifa, Blatter said other confederations "are lacking" and must "acknowledge their responsibility in matters of ethics".
Blatter, 79, added: "German Football Association president Niersbach has broached a subject that has so far been blocked by Uefa, of all associations.
"The message he has thereby sent out must apply to everyone: Only together can we continue to drive the process of reform forward. That is something I will stand for until my final day in office."