Cameroon coach blames lack of funding for African exits
Last updated on .From the section Football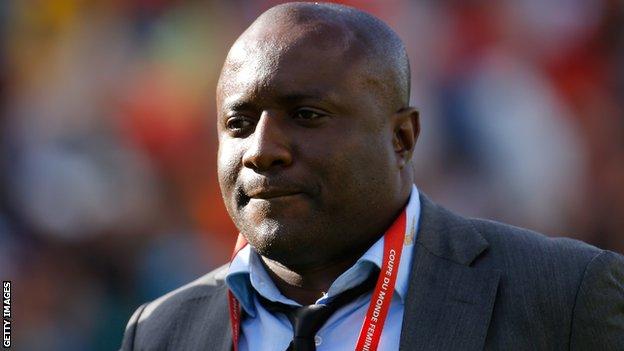 Cameroon coach Enow Ngachu blamed a lack of funding and preparation as the last African nation competing in the Women's World Cup in Canada were knocked out of the tournament on Saturday.
Wang Shanshan's 12th minute goal put 1999 runners-up China into the quarter-finals with a 1-0 win over surprise newcomers Cameroon.
"It's a bad day for the Cameroon national side. We came up against a very good team," said Cameroon coach Ngachu after the game in Edmonton.
The Indomitable Lionesses had been just the second nation from Africa to make it out of the group stages at the Women's World Cup after Nigeria in 1999.
Cameroon lost to reigning champions Japan 1-0 in their group matches but then achieved their first wins against Ecuador (6-0) and Switzerland (2-1.)
Despite creating surprises, the 53rd-ranked side joined already-eliminated African champions Nigeria, ranked 33, and 67th-ranked Ivory Coast on their way home.
"We need to develop women's football in Africa. We need good organisation, we also need to create as many clubs as possible. If we could have sponsorship it would be good," said Ngachu.
"We have the talented players. The problem African nations face is preparation.
"The day we are prepared well an African nation will be able to win the World Cup.
"We hope that with this performance many things will change not just in Cameroon but in Africa."
Cameroon, African runners-up to Nigeria, were also struggling in the weather conditions in Edmonton.
"We didn't expect cold weather and rain, it was a handicap for our team.
"It's unfortunate we haven't been training on surfaces that are very slippery," said Ngachu.
Nigeria, who have won nine of the eleven African championships so far, have competed in every World Cup since 1991 but only advanced once out of the group stage.
Despite Nigeria's Super Falcons impressing in a 3-3 draw against Sweden, they fell to Australia 2-0 and the United States 1-0.
The Ivory Coast were thrashed 10-0 by Germany on their World Cup debut, but suffered a narrow 3-2 loss to Thailand before falling 3-1 to Norway in the final group match on Monday.
Ngachu's comments echoed those made by Ivorian coach Clementine Toure after their exit.
"We wanted to do well in important matches like the one against Germany," Toure said after their defeat to Norway.
"We arrived 72 hours before the game, and were very tired from a long journey of 15 hours and with jet lag.
"Those are things that we would like to correct, to arrive earlier, and to play preparation games. We haven't been able to play friendly games, and this has hurt us.
"I want to make an appeal to not only our federation, but to all of Africa, that women's football has arrived.
"We believe in our women. We have a good team. Ivory Coast showed it deserves a place in the World Cup. But we also deserved to be better prepared. We didn't deserve to be humiliated."