Henrik Larsson: Humble and hungry for success as a manager

By Tom English
BBC Scotland
Last updated on .From the section Football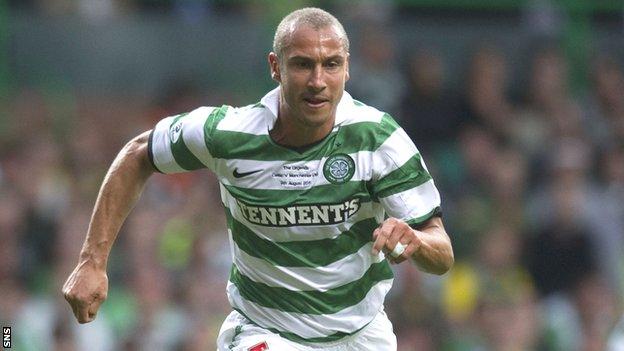 He walks into the room overlooking the pitch at Helsingborg's Olympia stadium, sticks out his hand and apologises for being late - about two minutes late. To most of us, it's nothing but, then, Henrik Larsson has never been like most of us.
To a footballer whose greatness was built, in part, on the back of impeccable timing, two minutes is two minutes too long.
He hasn't changed, not much at any rate. He's 43 but still looks fit enough to waltz on to the pitch at Celtic Park and light the place up one more time. Football is now something he plays for fun with his mates once a week in an over-35s league.
But his new life as a manager? That's a different story. That's the thing that envelops him now.
Listen to Henrik Larsson's BBC Radio Scotland interview
His club, Helsingborg, sit in mid-table in the Swedish top flight. It's a team in transition. Young and getting younger, none so youthful as the manager's own son, Jordan, scorer of three goals in his last six games.
Jordan was born in the summer of 1997 - that is, in the summer that his father left behind the unhappiness of Feyenoord and arrived in Glasgow for a seven-year love story that Hollywood could scarcely fathom.
Larsson senior has long gone from Glasgow, but he's not forgotten, not by the fans or the board. When Celtic were looking for a new manager to replace Neil Lennon there was talk that Larsson was very firmly in the frame. Was there substance to the chat?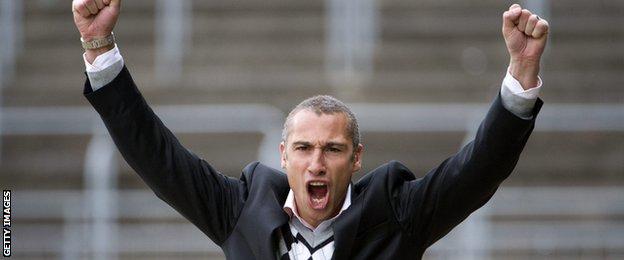 "There was a lot of substance in that, but I still feel that I wasn't ready for it," he explains.
"The circumstances weren't the right ones. I think the day you underestimate the importance of the job at Celtic football club that's the day when you fail. I've seen a few coaches doing that.
"Was I tempted? Of course I was tempted, but at the same time I had signed a one-year deal to manage Falkenbergs and it wasn't the time to leave them.
"We had a chat (with Celtic) and we'll leave it at that. I felt that the timing wasn't right, not for me and not for the family. I think as long as I'm in this line of work I'm always going to be mentioned when Celtic are looking for a new manager."
Memory lane is quite a place. This is a conversation that lasts close to an hour and it veers from Chic Charnley to Lionel Messi, from Darren Jackson crossing the ball for a Larsson diving header against St Johnstone to Cristiano Ronaldo, Wayne Rooney and Ryan Giggs applauding him back into the dressing room at Old Trafford after the end of his brief time with Manchester United.
Henrik Larsson by numbers
242 goals in 313 appearances for Celtic
"My first game for Celtic was away against Hibs," he recalls. "I made Chic a very good assist on his goal and they won the game. It wasn't the best start, but I held my hands up and said it was my fault. The fans weren't convinced.
"The one match that changed it was away against St Johnstone when Darren Jackson crossed the ball for me and I made a diving header. That was the day the fans thought, 'This guy can play.' They always talk about the goldfish bowl and I didn't understand that at the beginning, but in the end I understood.
"It adds some pressure but that's something you have to be able to handle. If you can't handle that then you shouldn't be at that level."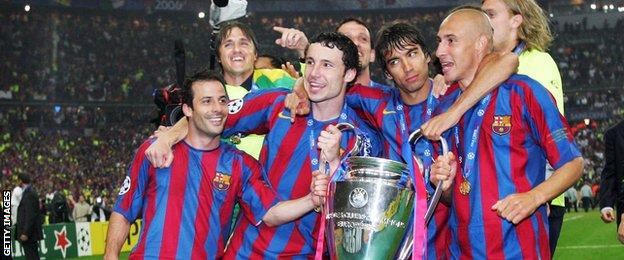 We talk of Seville. Among the Celtic fans there is and always will be a glorification of the marvellous run to the Uefa Cup final of 2003. From Larsson, the emotion is altogether different, one of disappointment that took a long time to ease.
"I wasn't happy (about Seville) at all," he says. "I'd rather not have scored the two goals and we won the game. It's not a happy memory, but I've learned to live with it now.
"It took me a long time to get over it. We're talking years, because you shouldn't lose that game.
"Scoring two goals against Porto. We shouldn't lose. They won the Champions League the year after, so they were a very good side, but I still think we had them. We had them."
He misses Glasgow - or to be precise, he misses the club.
"I wasn't that often in Glasgow," he continues. "I stayed out in Bothwell and the only time I went into the city was to a restaurant or to buy a suit or something like that. The rest of the time I was either training or resting.
"I miss the fans. We have a special relationship but I also miss the people around the club even though there aren't any players left from my day. I remember the staff, like John Clark or Angie, who did the clothes for us, and Hayesy (John Hayes), the groundsman.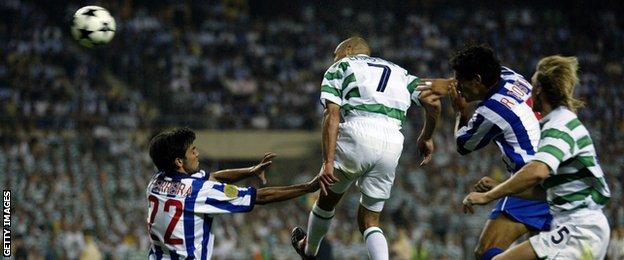 "I'm very proud to be remembered, I'm very happy about that. It's not easy to please the crowd there.
"They've always been loyal to me and I think they appreciated the way that I was loyal to them. It's no secret that I had opportunities to leave the club earlier, but I loved it there. I was never interested in going down south and maybe earning a little bit more money because I had a good contract at Celtic.
"No regrets about that at all. How can I regret that? The career I had at Celtic, the amount of goals and assists and the relationship with the fans and the club, I can't regret that. That's something I'm going to cherish as long as I live."
After seven years, he left. Then he was back again before he knew it - as a Barcelona player at Celtic Park in a Champions League tie only three matches into his time in Spain.
Henrik Larsson by numbers
Four league titles with Celtic, two with Barcelona, one with Manchester Utd
He says: "I was sitting at the pool in my house in Barcelona on the day of the Champions League draw and Magnus Hedman (Celtic goalkeeper) called me and said, 'Guess what?' I knew. I didn't want to go back that early. I had barely left and, boom, straight away, I had to go back.
"I had a funny feeling that day that if I got on the pitch (he started on the bench) then I'm going to score, because I always scored at Celtic Park.
"It was the strangest goal I ever got, without a doubt. I remember the silence and then came some applause. I don't think they were surprised when the ball ended up in the net, but I think they were a little bit, 'Should we cheer or not?'."
The high-point of his time at Camp Nou was, of course, the Champions League final against Arsenal in 2006, a final that saw Barca omit Larsson, Xavi and Andres Iniesta from the starting line-up. The three of them sat beside each other in the wings that night at Stade de France.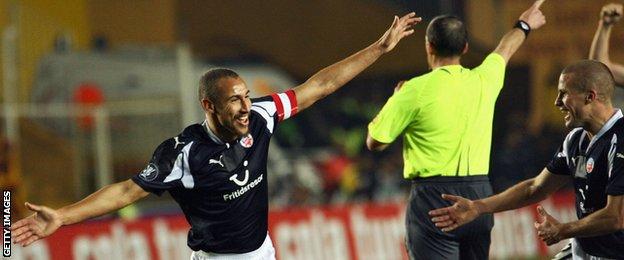 "I was annoyed I didn't play but I made my mind up that I wasn't going to lose the second big final of my career and I also made my mind up that I wasn't going to sulk about being a substitute and that I was going to treat the game as professionally as I could," he says.
"I knew if I went on then Arsenal wouldn't like my movement because that was something I could do - I could move and make it difficult for the defenders to know where I was."
And how. As the history tells us, Barcelona were losing 1-0 when Larsson came on late in the match and ended up winning 2-1, Larsson, a blur of energy and precision, creating both goals.
Was Seville on his mind that week? "Of course it was," he answers. "I'd been on the losing end and it wasn't a pleasing experience.
"You know, you're going to watch football all your life, you're going to watch the Champions League and the Europa League and I don't have a great feeling when I watch the Europa League but when I watch the Champions League, I have a great feeling."
He doesn't retrace his steps too often. There have been few visits to Glasgow or Barcelona. No time and no great desire to look back when he's got so much ahead of him.
He wants to scale the same heights as a manager as he did as a player, but he knows how difficult the road is.
"I'm still learning and I'm being humble with that," he adds. "If you think you know it all and you're the greatest then I don't think you're going to be very long in this game."
From adored player to ambitious manager, the Larsson story continues.