Motherwell hope to retain Scott McDonald
Last updated on .From the section Football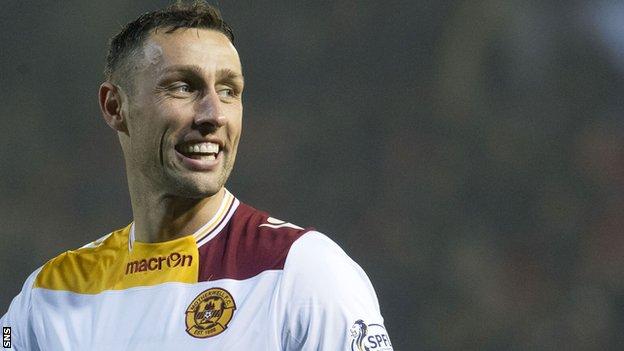 Scott McDonald could yet extend his stay with Motherwell, according to manager Ian Baraclough.
"You never know," Baraclough told BBC Scotland when asked if McDonald could sign again for next season.
"It has given him a renewed taste for life in Scotland and he loves Motherwell."
McDonald first joined Motherwell in 2004 after spells with Gippsland Falcons, Cranbourne Comets, Southampton, Huddersfield Town and Bournemouth.
That led to a successful time with Celtic and subsequent moves to Middlesbrough and Millwall before his return to Fir Park, scoring four goals in 13 appearances.
"He came and helped the club achieve what we wanted to achieve and I think he really enjoyed his four or five months," said Baraclough.
"You can tell he knows what the club is all about. It is one of those when you have an affinity with a club you don't want to break those ties so easily.
"He will have one or two opportunities I'm sure, whether it is just in this country, down in England or back in his homeland, but we are speaking to him."

Baraclough explained that contract talks with McDonald ahad been delayed while the striker was on holiday after the late end to the season after the Premiership play-off final victory over Rangers.
"With finishing that little bit later, players got their breaks in and, by the time they are back in on Thursday, it will only be three and a half weeks since we kicked our last ball against Rangers," said the Well manager, who has himself taken time to visit his family in Leicester and have a holiday in Spain.
"They have had to get their holidays in and now we can start in earnest to start speaking to those and people not at our club that we would like to bring to the football club."
Should McDonald not re-sign, Baraclough will be looking for a completely new forward line, with 21-year-old Lee Erwin having won a transfer to Leeds United and John Sutton rejecting a new contract.
"John Sutton got offered a new deal and he's chosen to go to St Johnstone and he goes with our best wishes," added the Well manager.
"He is a player we would have liked to re-engaged, but they have a choice at the end of their contracts and he decided to move on."