Eniola Aluko column: High-five with France coach cost me dear
Last updated on .From the section Women's Football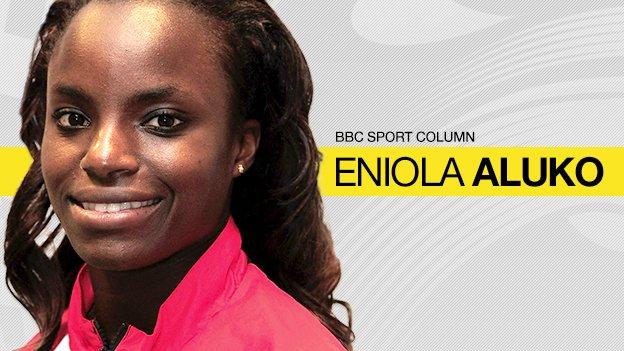 England v Norway: Women's World Cup last-16
Date:
Monday, 22 June.
Kick-off:
22:00 BST
Venue:
Lansdowne Stadium, Ottawa.
Coverage:
Live on BBC Three, BBC Sport website, including text commentary, and BBC Radio 5 live. Catch-up via BBC iPlayer.
England forward Eniola Aluko is writing a regular column for the BBC Sport website throughout the Women's World Cup.
Here she reflects on a case of mistaken identity, being dropped for the final group game and penalty strategies for Monday's last-16 tie with Norway.
Now we have reached the knockout stages of the World Cup the pressure has obviously increased so it's important to switch off and have fun at the right times.
Unfortunately, it has been me who has been providing the laughs recently thanks to our disciplinary representatives in the England squad - otherwise known as defender Laura Bassett and midfielder Jade Moore.
They are in charge when it comes to dishing out the forfeits if anyone does something ridiculous in a game or during camp.
But we aren't talking minor punishments like singing a song. Their rulings can be harsh.
My case came in our opening game against France. As I ran off the pitch at half-time I accidentally high-fived the France coach Philippe Bergeroo, thinking it was our head coach Mark Sampson.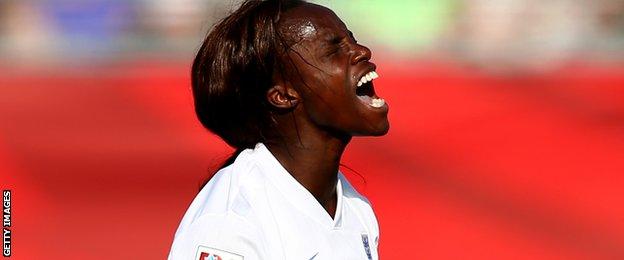 I was in my own world and wasn't looking but by the time I glanced up and realised it wasn't Mark I was already high-fiving the wrong man. He looked at me like I had 10 heads!
This was right up Laura and Jade's street so they decided that I had to spend the next 24 hours high-fiving everyone I saw. That included all the hotel staff in Moncton, who must have got a bit bored of it by the end. It was so embarrassing.
To be honest, I actually thought it was going to be worse than that so maybe I got away with one. I thought I was going to have to speak in a French accent for 24 hours, which would have been hilarious for my team-mates, but I still reckon I high-fived about 40 or 50 different people.
It's really important to have this sort of banter during the tournament. Moments away from the group where you can be the real you are special too.
I like to hang out with Lianne Sanderson and Alex Greenwood and if we spend the day together, we just relax and don't talk about football at all. We've been to see a Drake concert when we were in Toronto, and we had a pamper day at a spa in Ottawa on Friday before getting stuck into plenty of meat at the rib festival.
When you are away for five weeks, you need that ability to switch off sometimes.
Mark has used all 20 outfield players at the tournament so far, so there have been plenty of ups and down for the squad in terms of selection.
We are very good at putting on a poker face, being respectful of others in the squad and pretending it's all OK. But sometimes it's just not and some players obviously get frustrated.
Having time on your own allows you to vent to whoever you need to or shed a tear but then you quickly return to your normal self. That's something we've learned: that emotions aren't a bad thing, it's just about managing them and respecting the group.
I was dropped for the last group game against Colombia, having played in the previous two against France and Mexico, but I understood why. Coming into the World Cup, I probably knew that I wasn't going to play all three group games just because I'm an explosive type of player and three games in a short of space of time causes different stresses on the body for different players.
I just hope that I get the nod for the Norway game on Monday which is massive for us.
We have to do what no other England team has done and win a World Cup knockout game but we have great belief we can do it.
Norway are a side that match us in terms our collective strengths and after they drew with world number one side Germany, they will be full of confidence so it will be our toughest game yet.
Sure, there is pressure but we have been working with a team development officer, who has taught us how to manage it and turn it into a positive thing. So I think we are well prepared and excited about the opportunity of going further in the tournament.
We have also done our homework with regard to penalties. At the last World Cup in 2011, we lost to France on spot-kicks in the quarter-finals but I think we will be more strategic this time in terms of who takes them.
After the tournament there were some reports that previous head coach Hope Powell described some of the players as "cowards" for not stepping up to take one.
But I think that was the wrong thing to say. I don't regard anyone who doesn't want to take a penalty as a coward. And I think we will avoid that situation this time by having designated takers.
There are many different philosophies when it comes to taking spot-kicks. For me, you can practice all you like but still miss when you get to the game. I just don't think you can create that feeling of taking a penalty in a real knockout situation.
So what we've tried to do is just have a plan when that moment comes. We will prepare for the type of penalty we prefer and then have the conviction to convert it.
Hopefully it serves as a metaphor for the game itself.
Eniola Aluko was speaking to BBC Sport's Alistair Magowan in Canada.