Island Games 2015: Springfield 3G pitch may favour Jersey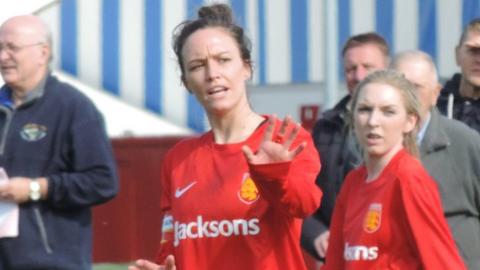 Jersey's footballers could have an advantage over their rivals at next week's Island Games thanks to the synthetic pitch at Springfield.
Women's team captain Eve Watson says the new 3G surface could help her side as they aim for a first gold medal.
Watson's side play both group games at Springfield, and the final will also be staged there, meaning just one game on grass if they win their group.
"I'm not sure if the other teams have played on 3G pitches," she said.
Jersey's women at the Island Games
2011: Eighth. Failed to make the knockout stages after a win, a draw and a loss in their group
2009: Third in group. Beat Greenland and Saaremaa, but lost to finalists Aland and Gotland in round-robin stage
2007: Last. Lost both group games and their play-off game to finish 11th out of 11 teams
2005: Did not enter
2003: Bronze. Beat Guernsey 3-2 in third-place play-off
2001: Bronze. Beat Isle of Man 3-2 in third-place play-off
"We've been training on it well and now it's going to be strange playing on grass again."
Jersey's women team lost 8-0 to Everton in their final warm-up match over the weekend, but have been encouraged by recent performances against the RAF and Navy.
Watson told BBC Radio Jersey: "I think we could actually do it if we still play the way we have been playing over the previous games against the Navy and the RAF.
"The team morale is really good, we all get on. I think we've really bonded well now as a team.
"We pretty much see each other every day so it's different to what we've previously done in island teams."