Hartlepool United: JPNG completes takeover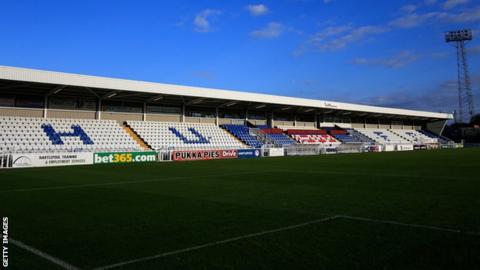 The JPNG recruitment group has completed its takeover of League Two side Hartlepool United.
Gary Coxall will replace Ken Hodcroft, who stepped down on Friday, as the club's chairman, while Russ Green will remain as chief executive.
Previous owners Increased Oil Recovery Limited had run Hartlepool since 1997.
"This is a very well-run club and we aim to build on the positive momentum created by the finish to last season," Coxall told the club's website.
"JPNG will not be coming in here to make wholesale changes; the players that [manager] Ronnie Moore targeted before we arrived are still the players he'll be targeting going forward.
"We're in a great position to progress the club now and Ronnie and Sam Collins [assistant manager] can look forward to our full support as they continue to improve the squad ahead of the new campaign."
The takeover comes four months after a proposed sale of the club to TMH2014 fell through.
Hartlepool finished 22nd in League Two last season, four points clear of the relegation zone.