Chelsea striker Bertrand Traore is granted work permit
Last updated on .From the section Chelsea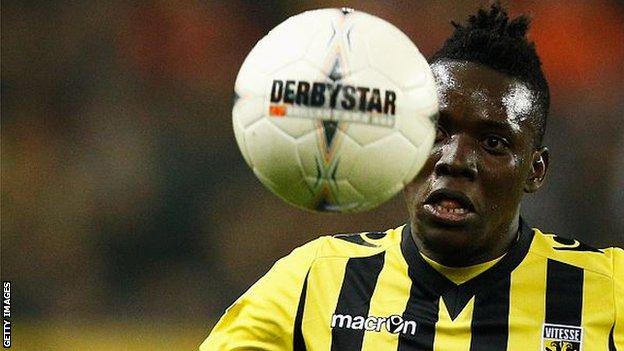 Burkina Faso striker Bertrand Traore is set to feature in Chelsea's first-team squad after being granted a work permit.
The 19-year-old signed for the Blues in January 2014 but, not qualifying for a permit, has since been on loan at Vitesse Arnhem in the Netherlands.
The Blues reapplied this summer and succeeded under the Football Association's new points-based system.
Traore is expected to be part of Chelsea's tour to the United States.
The change to work permit regulations has been introduced in a bid to limit the number of non-EU players but Traore, who did not qualify automatically, has been given permission to play in England by the FA.
Work permit changes - key points
Previously, players needed to have played at least 75% of their country's internationals over the previous two years. That has now changed and determined according to ranking. Players must play at least 30% of matches in the last two years if their country is in the top 10, 45% if ranked between 11th and 20th, 60% between 21st and 30th and 75% if between 31st and 50th.
Under the old system, players had to have played for a country in the top 70 when rankings are averaged over two years. That has been changed to the top 50.
All players were previously measured over the last two years. The new regulations allow leeway for players aged 21 or under to only fulfil the criteria for the previous 12 months.
The FA estimates that 33% of the players who gained entry under the old system would not have been granted a work visa under the new rules. That means that over the last five years there would have been 42 fewer non-European players playing in the Premier and Football Leagues.
Read more on the work permit changes on the FA website.
He scored 19 goals for Vitesse in the Eredivisie last season, and has played in three Africa Cup of Nations campaigns for Burkina Faso, having made his debut aged 15.
Chelsea will play against New York Red Bulls, Paris St-Germain and Barcelona when they travel to the United States in pre season.