Paulo Sousa: Ex-QPR & Swansea boss unveiled at Fiorentina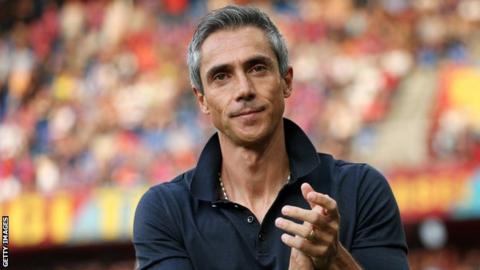 Former QPR and Swansea boss Paulo Sousa has been unveiled as manager of Serie A club Fiorentina.
The 44-year-old Portuguese has joined from Basel, replacing the sacked Vincenzo Montella.
His appointment has been met with protest by some fans because he had two seasons playing for rivals Juventus.
"Some fans remember me for being at Juventus but I want them to remember me for the work I do in Florence," he said.
Montella was sacked at the end of the season for what the club said was a "lack of respect", despite steering La Viola to a fourth-place finish and qualification for the Europa League.
Sousa spent two years in England and Wales between 2008 and 2010 with QPR, Swansea City and Leicester City, before coaching Videoton in Hungary and then taking Maccabi Tel Aviv to the Israeli league title in 2014.
He joined FC Basel on a three-year contract last season, guiding the Swiss club to the Super League title before being given the chance to return to Italy, where he played with Juventus as a midfielder from 1994 to 1996.
"I'm very happy the club have decided to put their trust in me. I've always believed I was the right coach for this project, and I'll do everything I can to repay that trust," he said.