Women's World Cup: 'Growing England can go all the way'
Last updated on .From the section Women's Football
England reached the quarter-finals of the Women's World Cup by coming from behind to beat Norway in Ottawa.
The 2-1 victory - secured by a Lucy Bronze strike from the edge of the penalty box - was the Lionesses' first in the World Cup knockout stages.
Mark Sampson's side now face host nation Canada in Vancouver at 00:30 BST on Sunday.
So what can England expect? And just how far can they go in the tournament?
How did England play against Norway?
Former England striker Sue Smith: "What a transformation it was from England. In the first half everyone was disappointed, but in the second half they were absolutely fantastic.
"They stepped up that bit higher, they looked more positive on the ball, and Jill Scott made a massive difference when she came on. She provided more energy and width and showed quality in possession."
Former England captain Gill Coultard: "England weren't in it in the first half. They just didn't show up and had goalkeeper Karen Bardsley to thank for keeping the score at 0-0.
"The Norway goal actually woke England up and substitutes Scott and Jodie Taylor changed the game. England were much more on the front foot when they came on."
Former England winger Rachel Yankey: "Maybe the occasion got to England, because they are better than that first-half performance. In the second half they just had to go out and attack and they did that. They showed their character."
What was the turning point?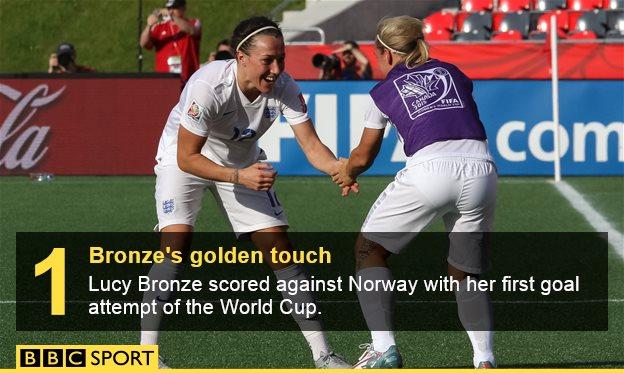 BBC Sport's Alistair Magowan: "Two things turned this game in England's favour. First, Mark Sampson got Katie Chapman playing 20 yards further up the pitch, and her pressing unsettled Norway's passing rhythm.
"Secondly, bringing on Scott to replace the ineffectual Fran Kirby added to England's energy and gave them much-needed width. Scott had a hand in both goals, winning the corner from which England equalised, and she also linked well with Jodie Taylor before laying the pass for Bronze's winner.
"When England's tactics are more positive, the players respond."
Former England goalkeeper Rachel Brown-Finnis: "There is no doubt that the substitutes made the difference, with Scott coming on and really sticking to her task of hustling down that right side, maintaining possession, and taking the energy out of Norway's back line.
"When the substitution was made at the corner and Norway immediately scored, we frowned on that a little. But the aftermath - England scoring within six minutes - showed great character. Then Taylor did really well when she was brought on too, creating that second goal for Bronze."
Are 'tinkerman' Sampson's tactics working?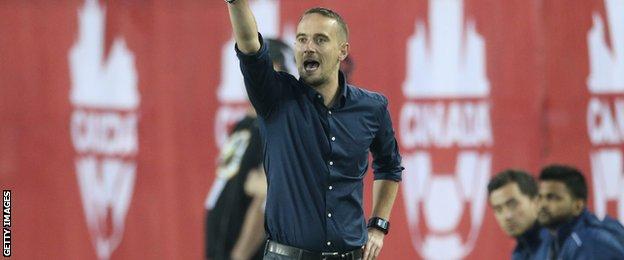 Magowan: "Mark Sampson appears to enjoy shuffling his tactics and personnel on a regular basis. After three consecutive wins, maybe his insistence that England are "in a good place" is accurate.
"Where the 32-year-old may be lacking, though, is in paying too much respect to the opposition. When he has let England loose, they have shown their true character.
"That may be a lingering scar from losing 3-0 to Germany at Wembley last November, when he tried to go toe-to-toe with the world's number one team. But Sampson has now shown that he can set up his team to win in different ways, and with England's first World Cup knockout win on his CV, he is revelling in his role."
Yankey: "Sampson is the tinkerman, that's what everybody has been calling him.
"Previous manager Hope Powell did a great job of setting up the team defensively over the years but the players felt frustrated that we went up to a certain point on the pitch and had no end product. We wanted to express ourselves and we had the creative players to do that.
"England still do know how to defend but Sampson has to give them a licence to express themselves. I really believe they can go and win games."
Coultard: "Sampson is an intelligent guy and I like his game plans. He's not afraid to change his starting line-up to combat the opposition or the conditions and he should claim credit for that."
Brown-Finnis: "This being Sampson's first World Cup, and the first for a couple of players he has brought in as well, Norway was his first massive test.
"Qualifying was pretty simple. No disrespect to the other teams we came up against, but this was a whole different ball game. A whole different set of tactics and a different environment.
"He had a lot of critics coming into this World Cup, people waiting for him to fail and jump on him, so I am really pleased for him and his staff. But more than anything I am pleased for this group of girls. For some, this is their third World Cup and potentially their last.
"For them to make history is superb, and Mark has been an integral part of that. He has kind of revolutionised English football for women."
What sort of threat do Canada pose?
Magowan: "Comparing the World Cup form of the two sides puts England slightly ahead. Canada have stuttered through to the last eight by one-goal victories but they will have a sell-out crowd behind them at BC Place in Vancouver.
"That pressure could go one of two ways. Christine Sinclair was supposed to be the shining light but has failed to reach the heights of the 2012 Olympics when they reached the semi-finals. Other members of the side have carried Canada through.
"There are no star names that England should fear, and they can point to a 1-0 win in the Cyprus Cup in March. A poor England side lost by the same scoreline in their final friendly before the World Cup but that was a few days after landing in the country.
"Canada's English coach John Herdman is a very quotable character and it will be an intriguing battle between him and Sampson, who are matched by their fondness of tactics and crisp white shirts."
Brown-Finnis: "Canada are on home soil but they haven't been firing on all cylinders. They will probably have a few critics to answer and will want to really kick on and give their fans hope they can go all the way.
"Sinclair has amazing qualities. She is Canada's all-time leading scorer and most capped player, but has not come to life. Sophie Schmidt showed promise early on but has not really brought her ability to the table.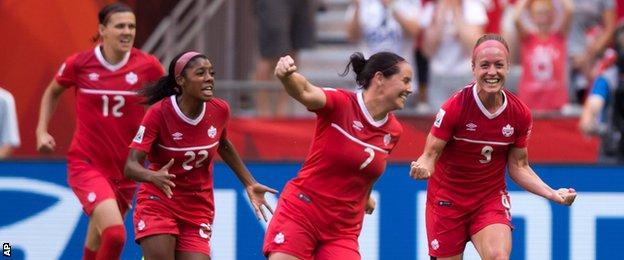 "I hope they are not saving it for this game against England, and don't knock them out at this stage, because I do believe England can go further. I can see England going out there and creating more history."
Coultard: "I scored two goals against Canada in 1995 and ended up with a black eye, but I don't think England have anything to be frightened of.
"Canada have the weight of expectation on their shoulders whereas England have achieved what they set out to do. They can play with more freedom."
Yankey: "Herdman does like to talk and he will play mind games. Norway tried that a little bit too, with all the talk in the press before the match, but I think England will cope with that, just as they did today.
"If England go 1-0 up on Canada there will be massive pressure on them, because everybody will be expecting them to go through.
"Being an underdog you have nothing to lose. That will take the pressure off us. Against Norway, some of the players looked a bit nervous, as if maybe the history was pinning them down. Now, they can just go out and play."
Liverpool forward Natasha Dowie: "The warm-up game against Canada was not the best of games, it was quite edgy. I think the quarter-final tie will be completely different. England will need to use the crowd as a positive, believe in what they are good at and be a really tight group."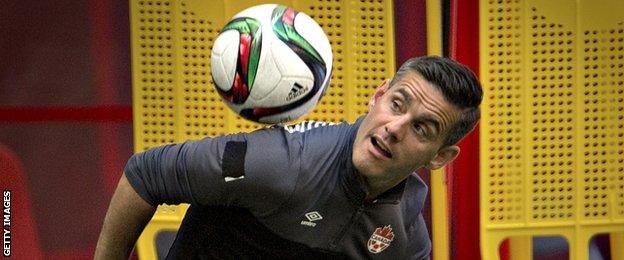 How far can England go?
Magowan: "Arguably the Norway tie was a more difficult game than the quarter-final against Canada. The Scandinavian team drew with Germany in the group stages, whereas the hosts have yet to face a heavyweight side.
"Should England beat a team which is eighth in Fifa's rankings, two places beneath them, reigning champions Japan are the likely opponents in the semi-finals.
"England beat them 2-0 in the group stages of the World Cup four years ago, and there are plenty of players in the current squad who were involved that day.
"If Sampson's England make it that far, then the tournament can be deemed a success whatever the result, which may just take the pressure off them."
Coultard: "We don't seem able to have two good halves but if we can play like we did in the second half against Norway then England will win.
"Victory over Canada would set up a semi-final against Australia, Japan or Netherlands. All the last eight teams are going to be tough to beat but England have certainly got an easier passage through to the final - if they can beat the hosts."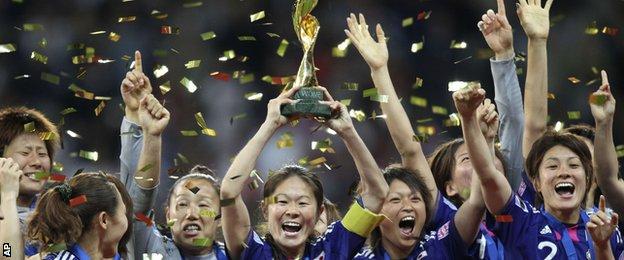 Brown-Finnis: "England have grown a lot. In the first game against France they looked a little unsure and then in the second game against Mexico they set out to become more attacking but reverted to a defensive mentality and became a little unsure of themselves again.
"They applied similar tactics against Colombia in the third game but with different personnel, and you could see the confidence grow and grow. They really became more attacking. What they have certainly proved is that they are defensively solid.
"Being defensively solid and confident when attacking - put those two things together and England could go all the way."