Financial Fair Play: Court imposes order to block new Uefa rules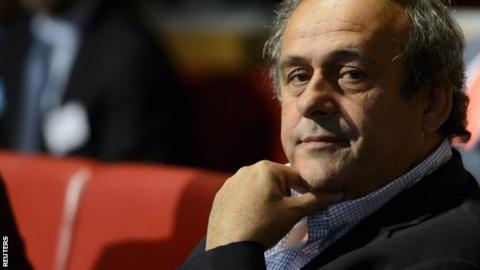 A Belgian court has imposed an interim order blocking European football governing body Uefa from activating new Financial Fair Play (FFP) rules.
The Court of First Instance referred a case brought by several claimants to the European Court of Justice (ECJ).
The case challenged plans to cut clubs' permitted losses from 45m euros (£32m) to 30m euros (£21.32m).
Uefa said it will appeal against the decision and continue implementing the new rules.
The claimants in the case include football agent Daniel Striani and supporters of Manchester City and Paris St-Germain.
City and PSG were both sanctioned by Uefa last year for breaching FFP rules, which state clubs in European competition must only spend what they earn, with some limited flexibility.
Uefa president Michel Platini has already said his organisation is planning to "ease" FFP regulations, changes which could be ratified at a meeting of its executive committee in Prague next week.
Jean-Louis Dupont, the lawyer who is leading the case for the claimants, said: "We believe that this Belgian judgement is the right answer to the FFP issue."
However, Uefa claimed the Belgian court was "incompetent" and insisted its appeal "automatically suspends the ruling of the lower court".
"It means that Uefa can proceed with the next phase of implementation of FFP," it said.
The governing body's statement added: "Uefa remains fully confident that FFP is entirely in line with EU law, and that the European Court will in due course simply confirm this to be the case."
The Belgian court is asking the ECJ if Uefa's 'break-even rule', the centrepiece of FFP, violates EU regulations on free competition, free movement of capital, freedom to invest and free movement of works and services.