Massimo Cellino: Leeds United owner found guilty of tax evasion
Last updated on .From the section Football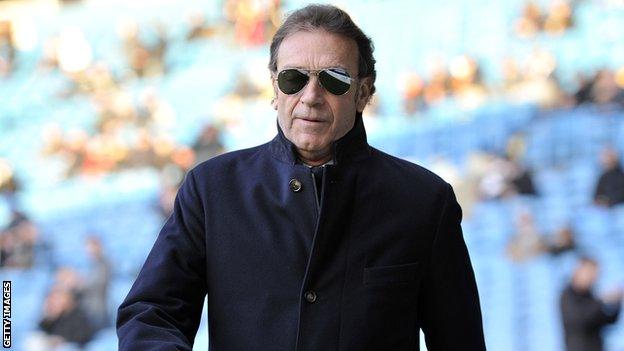 Leeds owner Massimo Cellino has been fined 40,000 euros (£28,500) after being found guilty of tax evasion by an Italian court.
The 58-year-old was convicted of failing to pay VAT on a Range Rover imported from the United States.
Cellino only returned to the Leeds board last month after serving a four-month Football League ban for failing to pay import duty on a yacht.
The League is yet to comment on whether Cellino could face further action.
BBC Radio Leeds' Adam Pope
"I have contacted the club to see if this affects his ownership status and the message back was that it seemed unlikely. Cellino was relaxed, I'm told, but no statement is expected from United.
"However, I understand that Cellino, along with others, has to appear in court on 14 September regarding an investigation into the construction of the IS Arenas stadium in Cagliari.
"Those charges include corruption, attempted corruption, unauthorised construction and non-compliance with a public authority order.
"So the obstacles to his continued running of the club are far from overcome it would seem."
It is believed the League is waiting for official confirmation of the court's ruling before deciding whether to act.
Cellino was banned in December after the League ruled the Italian failed its owners' and directors' test because the tax offence "would reasonably be considered to be dishonest". He failed to have his disqualification overturned in January.
At his latest hearing, former Cagliari owner Cellino was cleared of customs offences as the car's estimated value fell below the threshold for a criminal conviction.
The Italian faces another court hearing in October to answer tax evasion charges in relation to a second yacht.