Players not Rangers' only priority at start of Mark Warburton reign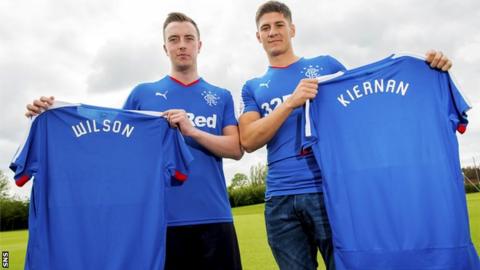 The worth of Mark Warburton's work at Rangers will only become evident in time, since he has been appointed with clear objectives in mind, but an insight into his methods will become evident more swiftly.
Rebuilding the first team is the clear priority and that process will reveal something fundamental about the new Ibrox manager.
Warburton has been confident and measured in all of his public appearances and if he has strayed into corporate management speak on occasion then that is a reflection of his years spent as a city trader as much as the way individuals are moulded and polished so efficiently by the coaching courses they attend.
He has talked of ideals, tactics, value and hard work, all elements of the job that he needs to combine, but it is the practical responses that will be more instructive.
The first two signings of his regime are a steadily reliable figure in Danny Wilson - who played alongside Warburton's assistant Davie Weir - and a player that Warburton has worked closely with in the past, Rob Kiernan.
Managers tend to gravitate towards players that they know, at least early in their time at a club, because the tone of their regime can be set by the early business and progress.
Wilson, who started his career at Ibrox, has Scottish Championship experience with Hearts and while improvements are still required to his game, he is young enough at 23 to refine his game. Kiernan is less accustomed to Scottish football, but was playing at Championship level in England last season.
They are safe signings in the sense that Warburton and former Rangers captain Weir know the players well enough to understand their strengths and weaknesses, how they will combine as a pairing and the potential they still have to develop.
Neither looks an obvious candidate yet to represent an investment in their potential sell-on fee, with Kiernan only have signed an initial two-year contract. He is 24, though, and so there might yet be room for his value to grow.
The key for Rangers is having learned the lessons of past mistakes and so be paying players their market value in terms of wages and bonuses rather than inflated fees.
There is a sense of urgency in the current recruitment strategy, which puts Rangers in a weakened negotiating position, not least when the new management team have clearly identified the players they want to bring to the club.
Even so, the signings have to be taken in the context of the next two years, by which time Warburton has been tasked with returning Rangers to the Premiership in a condition to be able to challenge at the top level.
Both Wilson and Kiernan need to prove they are capable of that. The situation might be different with John Eustace, who is expected to become the third new signing at Ibrox.
A 35-year-old midfielder who plays with a fierce edge and who missed the last six months of last season due to a knee injury, he is coveted by Warburton because of his experience, ability to act as a role model and for the authority and self assurance he will bring to the squad.
Eustace is a short-term signing as there will be no sell-on value and his importance is likely to be felt off the field as well as on it but Warburton clearly believes he will be a positive influence on the rest of the team.
Warburton cannot be judged on his initial signings, not least when there are other key positions that are still to be filled before the squad can be evaluated on its balance and merits, but the focus of his signings have been indicative.
In the four years that he spent at Brentford, first as sporting director then as manager, the majority of the club's signings were from England. Only seven signed permanently from the continent, and a further two on loan.
Recruiting from the English game is more challenging because the competition for players is fiercer and clubs in England can spend more on wages and fees.
That puts greater emphasis on Warburton's network of contacts for identifying players and on Rangers in making deals that are financially viable. It will take time, for instance, for Warburton to become acquainted with the Scottish game and players he might consider worth signing if he is basing that recruitment on his personal knowledge of the individuals.
Change takes time and Rangers have a series of issues to address. Warburton is an avid user of player analysis techniques, and those systems need to be upgraded at the club.
Sports science is also an area that needs investment and there remains no scouting network or chief scout in place. These can all be added in time but are needed if the rebuilding project is to deliver foundations that last beyond Warburton's reign.
For now, he will be looking for a right-back, more creativity and pace in his squad - particularly on the left of midfield - and two forwards. He might feel that the younger players in the squad will be good enough to provide strength in depth, but those are judgements he can only make once he has been in position long enough to assess them.
Warburton is signing players he knows to minimise the risk of making recruitment mistakes. The onus then is to combine the signings with the players he has inherited and developing a team with a coherent and effective style of play.
Recruitment is the first challenge, then it is coaching. Ultimately, Warburton will be judged on how he pulls all strands of the job together.