St George's Park: Golf plan as Gerrard calls centre 'boring'
Last updated on .From the section England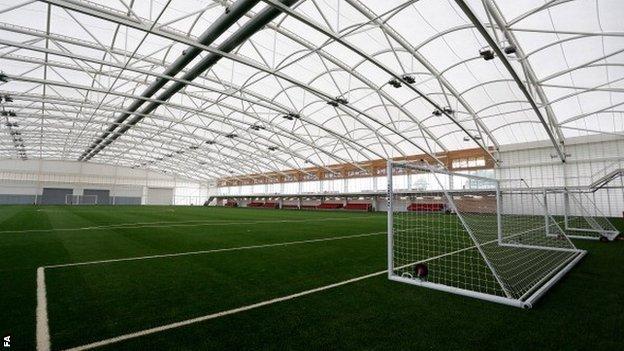 A nine-hole golf course is planned for St George's Park, it has emerged, as former England skipper Steven Gerrard called the training centre "boring".
But park managing director Julie Harrington said extra facilities are planned at the Staffordshire centre.
"We have been working on plans including the provision of a golf course," she said.
Officials from St George's Park have been liaising with East Staffordshire Borough Council, and it is understood plans include building a "lodge" for teenage players.
"We have a long-term vision of how to improve and develop the site further," added Harrington.
St George's Park
A
330-acre site
in Burton, Staffordshire
Opened in 2012 as a
national base
for all 24 England teams at various levels
It includes a grass replica of the Wembley surface and an
altitude chamber
to mimic a variety of playing conditions.
A development brief has been sent to the council with a view to building a lodge to house development teams - up to Under-19s for girls and Under-17 boys.
The proposals include constructing a nine-hole golf course to the rear of the grounds, and potentially more pitches.
A business plan and funding details will need to be finalised before planning permission is sought.
In an interview by Rio Ferdinand for a BT Sport programme, former Liverpool captain Gerrard said he thinks the complex needs a golf course to help overcome the "shyness" in the England squad.
"It's an unbelievable site but they need to be a bit more realistic around it," he said. "They need to make it a little bit friendlier for the players.
"It's a top place to train and prepare but away from training pitch and the games, it can be boring. We need to create that atmosphere where England players are desperate to get away and do well.
"When you get to England, you want to have your lunch and go to bed and keep away from everyone because there's a shyness. There needs to be an England atmosphere when you turn up and you know each other, you want to be with each other."
Harrington said she was encouraged that Gerrard recognised the quality of training facilities.
"Contributions from those who have used and benefitted from the facilities can only be a positive thing," she said
"By any estimation St George's Park is truly a world-class facility for football and increasingly for other sports - as many of the world's top athletes and teams who pass through our doors will testify.
"It is remarkable how far we have come in less than three years, but this is just the beginning."