Irish football chiefs taking legal advice over Messi tackle report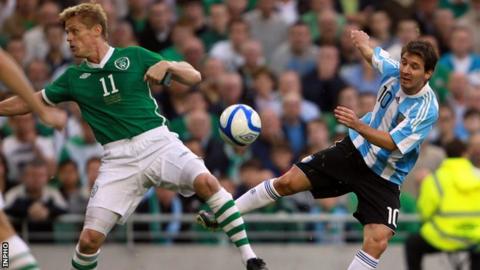 Irish football chiefs have vehemently denied claims that Republic of Ireland players were paid $10,000 each not to tackle Argentina star Lionel Messi in a 2010 friendly in Dublin.
The Football Association of Ireland has described the allegations made by an Argentinian newspaper as "baseless".
"We are consulting our legal advisers in relation to the article and will be taking further steps," said the FAI.
"The Football Association of Ireland completely refutes the allegations."
Argentina travelled to Dublin in August 2010 to play the Republic in a friendly to officially open the new Aviva Stadium.
The La Nacion report claimed that the match had been arranged in part to help compensate the FAI for Ireland's controversial World Cup play-off exit in France nine months earlier.
However, the FAI has also rubbished this element of the La Nacion story.
"The match in question was organised by Kentaro and announced by press release prior to the World Cup play-offs in 2009," added Wednesday's FAI statement.
Former Republic of Ireland winger Kevin Kilbane, who played in the game, said that he "totally refuted" the La Nacion report.
"There was no suggestion around the game that we were to stay clear of Lionel Messi, and of course none of the players received any money as payment regarding this," said Kilbane.
"It's total news to me and I'm sure it will be news to a lot of the other lads as well."
La Nacion claimed that the late Julio Grondona, then president of the Argentina Football Association and senior FIFA vice-president, suggested to FIFA president Sepp Blatter that the Argentinian team should head for Dublin.
The report added that Messi's club Barcelona were unhappy and with an insurance quote for the game coming in at $5m, it was decided to adopt the less costly policy of paying the Ireland players to go easy on the visitors' star man.
The game ended 1-0 with Angel di Maria scoring the only goal in front of a crowd of 45,200.
The FAI generated headlines earlier this month after chief executive John Delaney confirmed it had received a loan, later written off, of five million euros from FIFA in the wake of the Republic's play-off heartbreak at the Stade de France.
Delaney claimed the payment had been made after he and Blatter had entered into a deal under which the Irish governing body would not take legal action over the infamous Thierry Henry handball incident during the 2009 World Cup play-off in Paris.
The confidentiality agreement between the two parties, released by the FAI in a bid to clarify the situation, described the payment as an "inducement" not to enter into litigation.