Women's World Cup: Seven inspirational England stories
By Alistair Magowan
BBC Sport in Vancouver
Last updated on .From the section Women's Football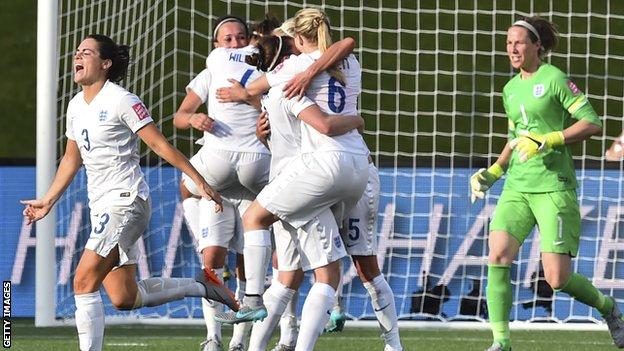 England boss Mark Sampson insists he has not just got a special group of footballers with him at the Women's World Cup in Canada, they are special people too.
In the build-up to the tournament, the 32-year-old encouraged them to divulge their personal stories so they could inspire one another when times got tough. Some of the players have since admitted they were shocked by what they learned.
But after winning England's first World Cup knockout game to reach the quarter-finals - against hosts Canada at 00:30 BST on Sunday - it appears to have worked. When you read the extraordinary nature of their stories, playing football appears easy in comparison.
The inspiration - Fran Kirby
Despite being the second youngest player in the squad, 21-year-old Fran Kirby was responsible for providing the spark to ignite England's World Cup campaign and in doing so showed the depth of character that exists in the squad.
After defeat by France in the opening game, her goal in the 2-1 win over Mexico was expertly executed and came in her first World Cup start. No wonder her manager labelled her "Mini Messi'.
Yet the added significance of that strike only became apparent afterwards. Seven years ago, Kirby's mother passed away, and while the forward was still wide awake after a monumental day in her football career, she tweeted to reveal it was her mum's birthday.
Team-mate Eniola Aluko summed up the mood in the squad when she said: "I nearly broke down when I heard about her mum. I couldn't even imagine what it must have felt like to lose her mum at such a young age."
Having quit football four years ago after a spell of depression, the Reading forward said: "Everything I do is to make mum proud. I'm sure I've done that."
The lynchpin - Fara Williams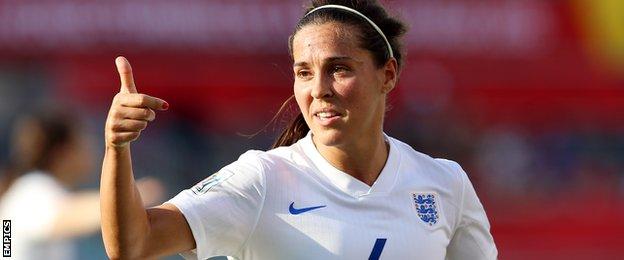 When Fara Williams converted her penalty in England's 2-1 win against Colombia, the 32-year-old matched David Beckham's record of being the only England player to score in three World Cups.
For an England midfielder with a record 144 appearances, it was another milestone in an incredible international career, where for parts of it she was homeless.
After a family fall-out led to her being estranged from her mother, Williams spent seven years moving between hostels, and somehow managed to keep it secret from her England team-mates. She has since been reunited with her mum, Tanya, who she calls a "hero".
"I felt guilty when I found out," says former England international Rachel Yankey, whose caps record Williams has now eclipsed. She probably wasn't the only one.
Liverpool player Williams can come across as a shy character but is a fierce student of the game. "I was lucky I had football," she has said. "Other homeless people don't have that hope."
When she scored against Colombia she celebrated by making a heart shape with her fingers. The love of her family is back in her life again.
The mother - Katie Chapman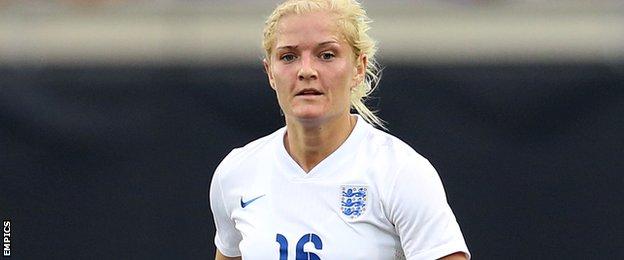 Katie Chapman, 33, is another player who has come through hardship to reach the World Cup in Canada, but in her case it was because of an issue which is still unresolved in women's football - motherhood.
The Chelsea midfielder was considered the strong but silent type for many years under former head coach Hope Powell, making her debut in 2000 and earning 82 caps. But in 2010 her central contract with England was suddenly cancelled.
Chapman - then with two children - had just returned from an attempt to play in the United States because her husband had struggled to find work. With an international looming, she called Powell to ask for a short break to put her life back together again. Three hours later she was no longer an England player and was in exile until Sampson took charge 18 months ago.
"It was really upsetting," she said. "The time I needed time out, I didn't feel very supported. I don't know if it was because I was a mum, but I needed that time for my children."
Now with three kids, Chapman admitted it would be a wrench to leave them behind for the World Cup, but was reunited with her family when they paid her a surprise visit. Pity they missed out on a robust display in the last-16 win over Norway. But watching at home, it was a performance for her kids to be proud of.
The heartbeat - Jade Moore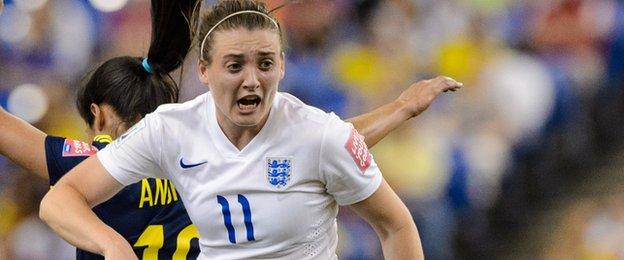 Prior to the last group game against Colombia, midfielder Jade Moore was put up in front of the media and gave a performance as confident as her recent displays on the pitch.
When asked about her story, the 24-year-old's reply was simple: "Mine is an England story." The consummate professional was only telling half the truth, though.
At the age of 17, a cardiac screening at Loughborough University revealed Moore had two holes in her heart.
"Everything is fine now [after surgery] but they did say that had I kept playing I would have been dead by the age of 40. In that sense, football saved my life."
Moore admits that the news came at a good age. "I didn't really think about it much, I just wanted to get back playing football," she says matter-of-factly.
With a clean bill of health, she is the beating heart of the England midfield and in a short space of time has become undroppable.
The wizard - Karen Carney
Karen Carney has a lot to thank team-mate Laura Bassett for. At one point in her life, when depression had gripped her so tightly she refused to leave her car, Carney had to be literally dragged out by her former Birmingham team-mate in order to take part in training sessions.
England should be thankful to Bassett too. Forward Carney has struggled to cope in previous tournaments, citing the claustrophobia of being cooped up in hotels.
But since talking about her past, Carney has tasted a new lease of life on the biggest stage. After being introduced as a substitute against Mexico, she helped lay on Kirby's opener, and then headed in the winner. The 27-year-old continued in the same vein by opening the scoring against Colombia and almost added another against Norway.
For a woman who said she "hated football with a passion" following an ill-fated spell in the United States, England have benefitted from Carney discovering her "wizardry" again.
The mother Part II - Casey Stoney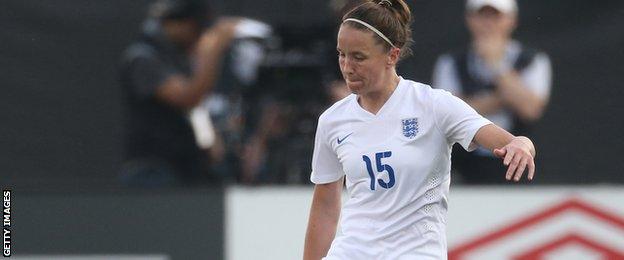 Speaking to Casey Stoney after she was handed a surprise call-up against Colombia, it was hard not to be struck by her pride.
This is a former England captain, a player with 120 caps, and someone who became the first football skipper of Great Britain at the 2012 Olympics.
But this time the thrill of playing for her country was watched by her kids. After coming out last year and having twins via IVF with former team-mate Megan Harris, her eight-month-old children got a brief glimpse of 'mummy' as a World Cup footballer. "They were in my head all day," Stoney said.
Having not seen her family since arriving in Canada, the 33-year-old defender has more reason than most to miss home. But after learning the lessons of a wretched Euro 2013 campaign when the players fell out with former coach Powell, Stoney has been key to the squad's harmony this time around.
As one of the most respected voices in the squad, she can provide a motherly instinct too.
The world-beater - Lucy Bronze
If you hadn't heard of Lucy Bronze before she struck a sensational winner in England's last-16 win over Norway, chances are you have now.
The Manchester City defender spoke to her mum on the phone from the dressing room and was told: "Your nan's lost her voice, your auntie's going crazy and my phone's going wild." Mark Sampson said Bronze has the "potential to be the best right-back in the world".
Hailing from Holy Island, the small outpost off the North-East England coast, Bronze also has Tough as her middle name, stemming from her dad's Portuguese heritage where it's traditional to take your mother's maiden name. Despite cajoling from her friends, she has resisted the temptation to have both tagged on the back of her shirt.
The 23-year-old's humble nature is a far cry from her ambition. She left Women's Super League champions Liverpool Ladies at the end of the last season, but she has since flourished at City where she has been soaking up the advice of Rodolfo Borrell, a former Barcelona academy coach, who trained the likes of Lionel Messi. "He's given me coaching tips I hadn't even thought about," she said.
For the powerhouse defender, it appears to be having an effect.