Gonzalo Jara to be investigated for Copa America finger incident
Last updated on .From the section Football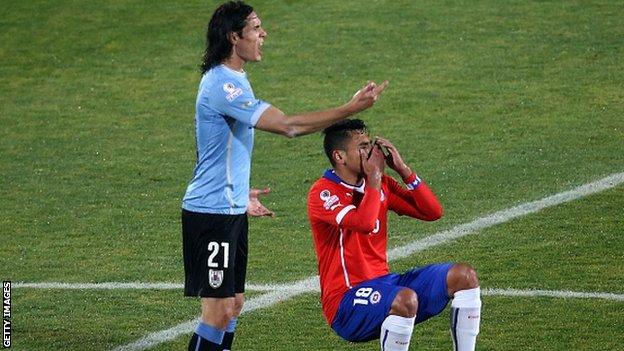 Chile defender Gonzalo Jara is to be investigated for an incident which led to the dismissal of Uruguay's Edinson Cavani in a Copa America match.
Television pictures appeared to show Jara poking his finger at Cavani's bottom.
The Paris St-Germain striker was dismissed for his reaction.
Alberto Lozada of South America football's governing body Conmebol said its disciplinary panel "will open an investigation".
Uruguay captain Diego Godin had earlier said he hoped action would be taken and added: "There are images that are far more graphic than 1,000 words of mine."
Cavani was given a second yellow card after he slapped Jara, who went unpunished, in retaliation.
The incident involving the former West Bromwich Albion defender happened before team-mate Mauricio Isla scored to send Chile into the semi-finals.