Inverness Caledonian Thistle youth policy criticised
Last updated on .From the section Inverness CT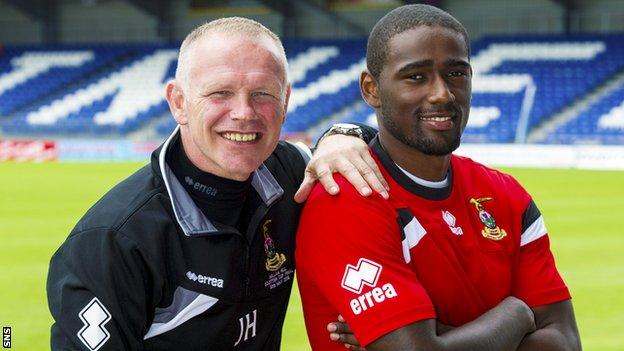 Scottish Cup winners Inverness CT are among clubs not doing enough to develop home-grown talent, it has been claimed.
The criticism comes from Alisdair Gray, who helped the Scottish FA draw up its plan for the game's future in 2010.
He recognises that Caley Thistle, who declined to comment, will say their strategy brought success.
"But I don't think it aligns itself towards the overall Scotland United strategy of creating opportunities for young Scottish players," he said.
Gray was speaking as Inverness announced that Inverness-born youth team forward Calum Ferguson, who has played for Canada Under-20s, had been handed a full professional contract and paraded English midfielder Nathaniel Wedderburn to the media as their latest signing.
Caley Thistle and manager John Hughes, who earned a reputation for blooding young players at Falkirk, declined to comment about the criticism from the consultant who helped former First Minister Henry McLeish draw up his report.
Of the 18-man squad who won them the Scottish Cup for the first time, securing a debut in European football and finishing in an all-time high of third in the top-flight, 12 were non-Scots.

But, although that were more than the seven in St Johnstone's 2014 Cup-winning team, five of Caley Thistle's Scots came through their own youth ranks compared to one - Stevie May - in the Saints squad.
Gray, though, insisted: "They had a very high percentage of non-Scots, of people who were perhaps not the highest quality.
"I call them journeymen who basically will come for a couple of years, they'll get their remuneration, but is there a long-term loyalty to the club, is there a real legacy from them being there?
"If I was a young 14-15 year old in Inverness, or in the surrounding area, I'd like to think my club would give me every opportunity to get into that first team, to develop my skills and to be a successful part of a growing club that had the right balance between its players. I think it's got out of balance."
Gray said that the response from clubs to the SFA performance strategy has been patchy.
"There's no question a number of Scottish clubs have really embraced it and brought some quality youngsters into their teams," he said.
"But, in terms of the targets, one of the key ones was the percentage of players playing in the Scottish Premiership who were actually Scots and who had come through the system and they're struggling, there's no question.
"Obviously clubs are looking for instant success and to consolidate their position in the Premiership and to win some trophies.
"But I think they have to balance that with aligning themselves with the overall objective, which was for Scottish international teams to be doing better."
Gray said the the SFA had "led the way" through its Club Academy Scotland programme, performances schools and regional academies.

"I fully understand the financial fragility of a number of the clubs, but the model has been proved in Germany, in particular, and in other smaller countries that to focus very much on youth is a very effective way of not only keeping the club viable but of developing the right kind of talent and role models for the club and for the community."
Motherwell manager Ian Baraclough said clubs had to fit their signing policy to their own budgets.
However, the Englishman said: "I think young players generally get a chance in first teams up here quicker than they do down in England.
"From the environment that I came from, it is certainly different.
"You see under-21 players in England are maybe there for three or four years, but there is a certain hunger up here from the young players - they want to be in the first team and they want to be there yesterday.
"Young players will get their chances for sure and that's our philosophy."