Hugh McIlvanney on George Best and football's finest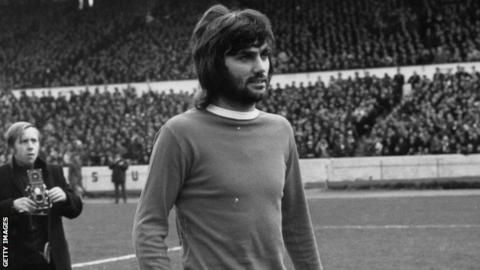 Who is the best footballer and which is the greatest team over the last 50 years or so?
They're questions that always prompt great debate and legendary sports writer Hugh McIlvanney tackles them in Part Three of "The McIlvanney Conversations" on BBC Radio Scotland on Sunday.
It won't surprise many to learn that McIlvanney includes the great Brazilian, Pele, in a list of four of his all-time great players. As he says of Pele in the programme: "If a miracle was required, he was the guy to produce it."
Pele, of course, was part of that 1970 World Cup-winning team and McIlvanney provides some fascinating insight to the team that is generally regarded as the best of all time.
Although not in his top four, there is no disguising McIlvanney's admiration for the talents of George Best, whom he describes as the "best player from these islands" with his ability to "demoralise opponents".
Best and McIlvanney became friends - so much so that, when Best was due up in court on a traffic offence, he asked the Scot to appear as a character witness.
In "The McIlvanney Conversations", he has some fascinating thoughts on some of the great Scottish players. He especially admired midfielders such as Billy Bremner, Bobby Murdoch, Jim Baxter and Dave Mackay, but there's one who stands above all others.
"I think Graeme Souness is one of the greatest players who ever played for us," he says. "He had that quality of knowing the story, how the game works."
He also talks about the "sheer magic" of Celtic winger Jimmy Johnstone and his "bewildering intricate dribbling" as well as his "sense of mischief", which once found him cast adrift in a rowing boat in the Firth of Clyde while on Scotland duty!
When it comes to World Cups, McIlvanney has suffered like all Scotland fans and laments the failure to have got beyond the group stages of any major tournament.
He also reflects on those wonderful Dutch teams of the 1970s that reached the World Cup finals of '74 and '78 only to lose both to the hosts, Germany and Argentina.
Those tournaments gave him the chance to get close to the great Johan Cruyff and McIlvanney admits he still gets upset to this day about their defeats in both finals, describing it as a "denial of their just deserts".
Great players, great teams, great memories - join Hugh McIlvanney with BBC Scotland's Geoff Webster for "The McIlvanney Conversations", Sunday 28 June at 13:00 BST, BBC Radio Scotland.