Island Games 2015: Jersey target football gold medal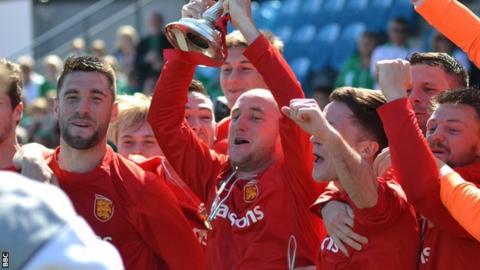 Jersey defender James Scott says the island's footballers are aiming for their first Island Games gold medal in six years when they host the games.
Jersey won gold when they last held the event in 1997, and Scott hopes they can repeat the feat 18 years later.
"I think we've got a good chance of getting the gold medal," he said.
"It's going to be difficult with some challenging matches, but I think we've got a great opportunity and we've just got to produce it on the pitch."
Jersey begin their campaign with group matches against Alderney on Sunday before facing the Western Isles on Monday and the Isle of Man on Tuesday.
Island Games 2015 men's football groups
Group A: Aland, Saaremaa, Greenland, Menorca
Group C: Isle of Wight, Falkland Islands, Shetland Islands, Hitra
Group B: Guernsey, Ynys Mon, Gotland, Gibraltar
Group D: Jersey, Isle of Man, Western Isles, Alderney
"When the groups were drawn we knew the Isle of Man would be the trickiest opponent," Scott added to BBC Radio Jersey.
"We play them in our last game so that will be interesting and if we need to perform during that game we'll have to step up to the plate."
But Jersey go into the match buoyed by a first victory in four years over rivals Guernsey - a side many see as favourites for gold.
"We'll be going in with a bit of confidence but, at the same time, Guernsey will want to get their own back," Scott said.
"We've just got to concentrate on ourselves and not worry about anyone else."
There will be live commentary of Jersey's opening Island Games match with Alderney on BBC Radio Jersey on Sunday from 1300 BST on 1026MW