Island Games 2015: Guernsey women relish fresh opposition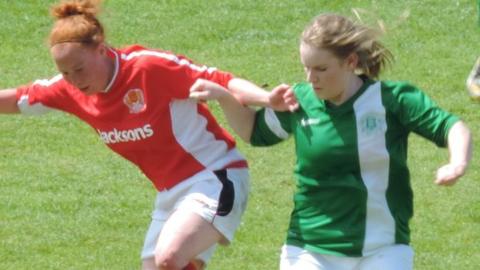 Guernsey's women footballers are excited by the chance to play fresh opposition when they take part in the Island Games.
The island has only once made the semi-finals, losing on home turf to Jersey in a bronze-medal play-off in 2003.
The 2015 games in Jersey are Guernsey's first foray into the event since 2009.
"We play one game a year against Jersey, so to play against other teams of different quality is going to be amazing," said Guernsey's Jess Page.
And their record against Jersey is not good, having not beaten their Channel Island rivals since 2008, going down 7-0 last month.
Island Games 2015 women's football groups
Group A: Aland, Guernsey, Ynys Mon, Isle of Wight
Group B: Isle of Man, Western Isles, Gotland, Gibraltar
Group C: Jersey, Greenland, Hitra
Guernsey have not won a game at the Island Games since they beat Greenland 3-0 in Rhodes back in 2007.
This year they are in a group with Aland, who have not lost a match at the Island Games for a decade, as well as Ynys Mon and the Isle of Wight.
They open against Isle of Wight at St John on Sunday before facing Aland a day later.
"When we play Jersey we know what we're expecting," Page told BBC Radio Jersey. "We're so used to defeat at the moment, we worry about it, and maybe that's why we don't perform as well against Jersey.
"But against these other teams we don't know anything about them so we can just go out and play our game and not worry about the opposition because we always panic about Jersey."