Shrewsbury Town: Micky Mellon will not put club at financial risk
Last updated on .From the section Football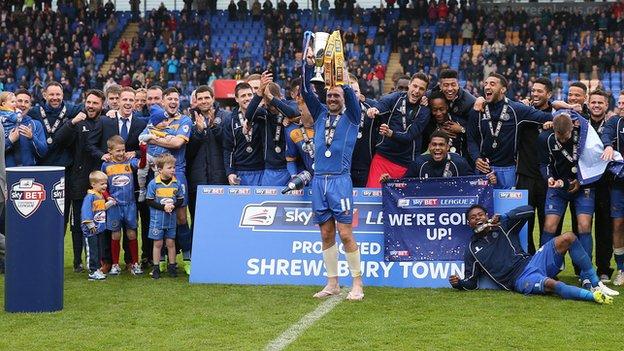 Shrewsbury Town manager Micky Mellon says that he will not gamble with money they do not have and put the promoted League One club at risk.
Strikers Andy Mangan and Jean-Louis Akpa Akpro and defender Jermaine Grandison have not yet signed contracts offered them.
But all three could miss out as Town are already close to their budget.
Financial Fair Players' Guide
The current Financial Fair Play rules have been in place since 2013-14. League One clubs can only spend 60 per cent of their turnover on players' wages. Failure to comply could see them hit by a transfer embargo.
In League Two, the rule is 55 per cent of turnover. In the Championship, there are no restrictions. In the Premier League, there are no restrictions, as long as the wage bill comes to less than £52million per year.
"The club has been brilliant, but the pie is only so big. That's all I have," Mellon told BBC Radio Shropshire.
He has already brought in seven new players this summer and admitted: "We're at the ceiling. I can't spend any more than 60 per cent. I need to some squad shifting to make things happen.
"I can't suddenly look behind Joe Hart's picture in the boardroom and find a bank vault with millions of pounds in it."
Mellon added: "I'd love to have millions to spend. We all would. But this is football. The other way is cheating.
"To go and spend millions that you don't have and gamble is putting clubs at risk. I don't want to make us bankrupt and then me scuttle off leaving people in the lurch."