Glastonbury Festival: BBC Sport readers offer their #GlastoXI
Last updated on .From the section Football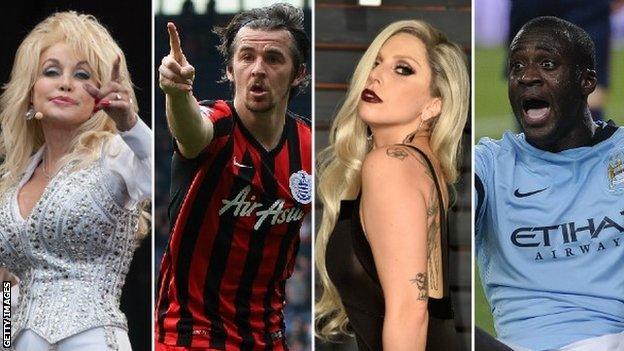 Portable toilets, mud, traffic jams, mud, cold showers, mud.
Pilgrimage to Glastonbury Festival, despite its sometimes challenging lack of home comforts, is the highlight of the year for many and BBC Sport could not resist getting involved in the fun.
In Sportsday Live, we asked you for your #GlastoXI contributions via social media, suggesting footballers who boast names which could easily be merged with those of pop stars.
You responded in your thousands and from 'Chadli Drawn Boy' to 'Szczesny Hawkes' we loved the contributions. Here we present the official Glastonbury XI.
The manager - Moyes II Men
Moyes II Men will be assisted by Public Lawrie McMenemy in leading the side.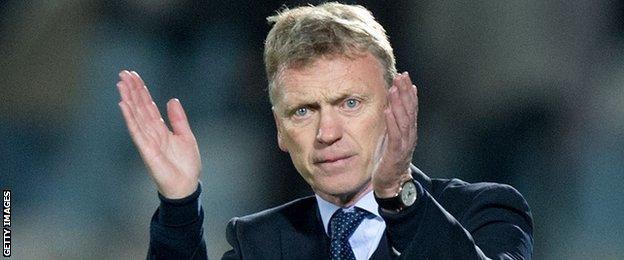 BBC Sport audiences' #GlastoXI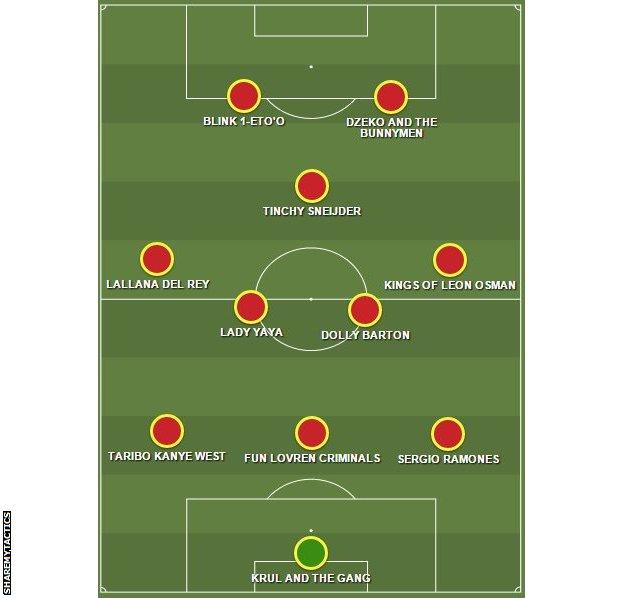 The bench
As the saying goes, the modern game is a squad one and these guys could warm the bench, perhaps even break out into a song or two to get the crowd going.
The #GlastoXI teamsheet includes your substitute suggestions and had to be submitted to authorities before Florence and the Machine headline on the Pyramid Stage at Glastonbury on Friday.
#GlastoXI to play for the Festival XI title

Position

Player

Suggested by

Goalkeeper

Krul and the Gang

JR

Defender

Taribo Kanye West

Janine

Defender

Fun Lovren Criminals

Matt Adams

Defender

Sergio Ramones

Cathy

Midfielder

Lady Yaya

Jack Drain

Midfielder

Dolly Barton

Dave B

Midfielder

Kings of Leon Osman

Rishi Patel

Midfielder

Lallana Del Rey

Con

Free role

Tinchy Sneijder

Mickey Bhutta

Striker

Dzeko and the Bunnymen

Martin Donohue

Striker

Blink1-Eto'o

Tom Norton

Substitute

Pjanic at the disco

Jamie

Substitute

Bebeshambles

Conor Proud Mammy Fryer

Substitute

Sonic Huth

Carl

Substitute

Jay-Z Altidore

JPE

Substitute

Della-Soul Campbell

David Winson