Eniola Aluko column: World Cup win 'would change lives'
Last updated on .From the section Women's Football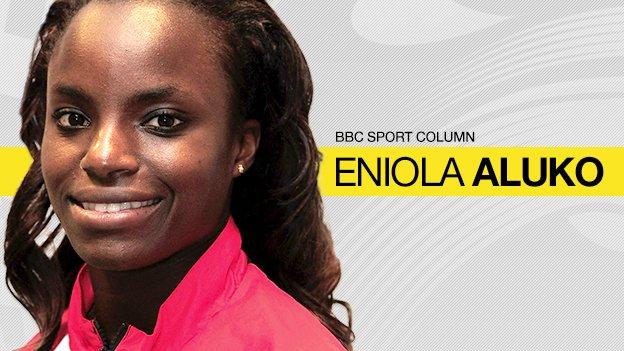 World Cup quarter-final: England v Canada
Date:
28 June
Kick-off:
00:30 BST
Coverage:
Live on BBC One, BBC Radio 5 live, BBC Sport website, mobiles and sport app
England forward Eniola Aluko is writing a regular column for the BBC Sport website throughout the Women's World Cup.
Here she talks about England's chances against their quarter-final opponents, her respect for Canada manager John Herdman and how winning the World Cup would change the women's game.
When Great Britain played Canada in the quarter-finals of the London 2012 Olympics, there was plenty of talk about whether victory could provide a tipping point for women's football.
After beating Brazil 1-0 at Wembley in front of a record 70,000 crowd in the previous game, there was huge excitement. But in the end the weight of expectation proved too much and we lost to a Canadian side who were better than us on the day.
The chance to give women's football a shot in the arm was missed, although I still think the Olympics was successful in taking the game to a new audience.
If we beat Canada on Sunday to reach our first World Cup semi-final, there is no doubt it would be a massive success. No senior English team, men's or women's, has done that since the 1990 World Cup in Italy and I think it will provide a huge catalyst for women's football. But, to me, the real measure, the real tipping point, will come only when we win the World Cup.
What would winning the World Cup mean?
In England, I think we are sometimes guilty of praising something for a week and then forgetting about it. It's certainly happened in my time with England.
The Premier League will start again in August and a quarter-final or semi-final exit could become old news. The one thing that will definitely stick in history forever and change people's lives is winning the tournament.
The real difference between ourselves and teams like the United States or Japan is that they are the reigning Olympic and World Cup champions. That's why their players are celebrated all over the world, because they picked up the gold medal.
So what would a World Cup win mean to the women's game? Firstly, the women's team would become the pinnacle of football in England.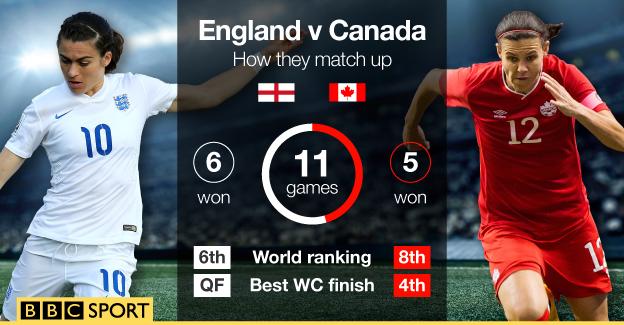 Everyone wants to back a successful team so it will hopefully have a knock-on effect in terms of the demand for tickets too. When we play our Euro 2017 qualifiers in September I'm sure a lot more people would want to come.
I'm not sure what impact it would have on domestic football as that would be up to the Football Association to try and create a domino effect, but I hope that attendances would rise and players would become even more recognisable to the public.
We are only at the quarter-final stage so winning the World Cup is still a long way off, but that has been our goal since the start. First, we must do something we have never done before.
Achieving that milestone will be special but we want to go further and help women's football reach the status I believe it deserves.
Role reversal from 2012
You can probably imagine what the scene was like in the dressing room after Great Britain were beaten by Canada at Coventry City's stadium three years ago.
It was a complete contrast to the scene after the game at Wembley three days beforehand. We'd just lost a home Olympics tie, and as I walked in it was pretty much silent. Sometimes words are irrelevant and there were a few players crying.
To be honest, though, it hasn't really been a huge factor in preparing to face Canada this time. Not all of our current England squad were involved and we have spoken more about beating [Canada manager] John Herdman's side when we won the Cyprus Cup final in March.
In many ways, Saturday's game in Vancouver is a role reversal from London 2012. This time we are facing a team with the added pressure of 54,000 fans behind them. We will be the underdogs and I have to say I prefer that.
Don't get me wrong, playing in front of big crowd is amazing but I think you have less pressure on you in this situation, when there will hardly be any England fans there.
For Canada, there is also the added weight of people you know in the crowd; the people who have made you the player and the person you are.
You don't want to let them down. Personally, I don't think about things like that but I can understand that it might add to it.
This will be Canada's fifth game of the tournament and every one of their games has been a sell-out so they are probably used to that expectation now. It would be naive to think they are going to crumble, but there are certain things we can do in order to increase that pressure in the game.
It's important for us to try and camp in their half as much as possible so it gives the crowd less to cheer about. The moment the crowd get excited by the team, that's when the so-called "12th man" can play a big part.
We need to start fast, just as we did in our final group game win over Colombia.
My respect for Herdman
We are expecting a physical encounter against Canada and we have seen that over the course of the tournament but I've got a lot of respect for their manager John Herdman.
I've spoken about managing a squad in a tournament with Japanese World Cup winner Yuki Ogimi, who used to play with me at Chelsea.
She said the fundamental part of Japanese culture is respect and during their 2011 triumph every player knew their role and was respected by the manager.
In Canada's case, it must be even harder because everyone will be itching to get on the pitch in a home World Cup, but John seems to have struck the right balance.
We'll be trying to upset that equilibrium on Saturday in what will be a massive game.