Island Games 2015: Jersey and Guernsey men start with wins
Last updated on .From the section Football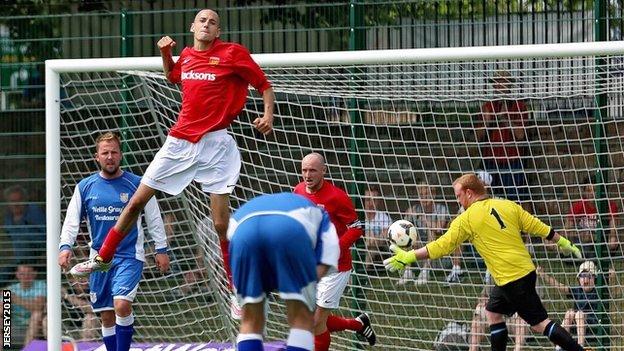 Jersey and Guernsey's men both easily won their opening football matches at the 2015 Island Games.
Jersey cruised to a 6-0 win over Alderney while Guernsey were 5-2 winners over Ynys Mon.
Jersey go second in their group after after the Isle of Man beat the Western Isles, who Jersey play in their next fixture, 9-0 earlier on Sunday.
Guernsey top their group ahead of Gibraltar, who came from, behind to beat Gotland 2-1.
Jersey's victory over their Channel Island rivals came via first half goals from Jake Baker, Jack Boyle and Luke Watson and strikes from to by Karl Hinds, Jack Cannon and Cav Miley after the break.
"I am happy, 6-0 in your first game is alright," Jersey manager Jimmy Reilly.
"A few of my young lads haven't even played in an Island Games before, it could have been more, we were looking for a bit more but we will take six."

Guernsey took a third minute lead through a well-worked Craig Young goal at St Peter over Ynys Mon.
Ross Allen scored twice after the break while Liam Mahon and Dominic Heaume were also on target.
"Anybody would take scoring five goals in the opening game, especially as we haven't played for six weeks," said Guernsey manager Steve Sharman.
"We played against a physical side who were up for the challenge and never gave up, so it was a really good test for us at the start," he added.
Elsewhere Jersey's women needed a last minute winner from Jodie Botterill, to beat Greenland 3-2 having earlier squandered a 2-0 lead.
Meanwhile Guernsey women continued their poor form at the Island Games as they lost 2-0 to the Isle of Wight in their opening match.
The Sarnians have not won an Island Games fixture since 2007, when they beat the Western Isles 2-0.
Guernsey face Aland in their next fixture - an island who have not been beaten at the Island Game since 2005.