England World Cup quarter-final win 'massive moment'
Last updated on .From the section Women's Football
Women's World Cup semi-final: England v Japan
Date:
Thursday, 2 July.
Kick-off:
00:00 BST.
Coverage:
Live on BBC One, BBC Radio 5 live and BBC Sport website
England reached the semi-finals of the Women's World Cup by beating hosts Canada 2-1 in Vancouver.
The victory - courtesy of goals by Jodie Taylor and Lucy Bronze - ensured the Lionesses made it into the last four of a World Cup for the first time.
Mark Sampson's side now face world champions Japan in Edmonton, in a game kicking off at midnight on Wednesday (BBC coverage starts at 23:40 BST, 1 July).
So are they good enough to go further - and just how important was the quarter-final result for the growth of the game in this country? We asked BBC pundits and experts for their views, but first...
Reaction on social media




What did you make of England's display?
Former England defender Faye White: "It was all about grinding out a result and that is what England did. People don't remember how you won - just that you got to the semi-finals. It wasn't pretty towards the end but they did what they had to do."
Former England captain Gill Coultard: "It was squeaky-bum time but England got there. You know you're not going to dominate the whole game but we had chances to make it 3-0, with Katie Chapman's header onto the bar, before Canada got one back just before half-time. It was backs-to-the-walls in the second half but England stood firm."
BBC Sport's Alistair Magowan: "England were fortunate that Jodie Taylor capitalised on Lauren Sesselmann's gift but Lucy Bronze's header gave them a cushion, and England only looked under threat because of Karen Bardsley's error. That's a fourth consecutive 2-1 victory now, and England are proving they have the attacking incisiveness to go with a defensive rigour that head coach Mark Sampson desires."
Ex-England goalkeeper Rachel Brown-Finnis: "It was a tough, gritty performance by England. They took their chances and were more clinical than Canada. They dug in and were resilient in the second half."
Former England forward Sue Smith: "England have performed unbelievably. They went for it. We call Mark Sampson the tinkerman and all of his tactics have been spot on."
Did England deserve to win?
Magowan: "England did not reach the heights of their previous win over Norway, but the early goals silenced the crowd in Vancouver and from there on, they kept their noses in front without being massively troubled."
Coultard: "It wasn't clear-cut but on balance you have to say they did because they got the result. They ground it out and that's all that matters."
White: "It was an even game over the 90 minutes but England took their chances. Melissa Tancredi had chances for Canada and it was a bit frantic at times. But what a result!"
Is this England's most important result ever?
Coultard: "Of course it is. Three times we've been knocked out at the quarter-final stage, so this is unchartered territory for them and it is a massive moment for women's football in this country. You can see the belief in the team and the grittiness - they all want to play for each other. This could really take England to the next level."
Magowan: "When the England men's team reached the semi-finals of the World Cup in Italy, the likes of Paul Gascoigne, David Platt and Gary Lineker inspired a nation and gave football a kick-start before the Premier League began two years later. The same could now happen for the women's game. Lucy Bronze, Karen Carney and Jodie Taylor may not have been household names, but they have driven England to their first World Cup semi-final, so now they can expect more attention."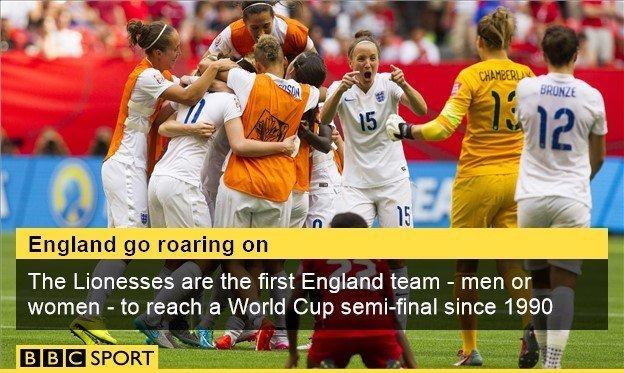 Brown-Finnis: "They have made history. They have changed the perception of women's sport and women's football in this country and it is moving things forward."
White: "Yes. I know Great Britain beat Brazil at the Olympics three years ago but this is a World Cup, a big tournament. We've never got to a semi-final before and it's the first time a senior England team has reached the semi-final of a major tournament since 1990. Whatever happens from now, we're at least in the top four in the world."
What are England's semi-final prospects?
Smith: "They need to keep believing. There is no reason why they can't go on and beat Japan. Yes, they are a fantastic team and play unbelievable football, but so can England now."
Coultard: "Japan are the holders and they are not going to give that up easily, but they weren't great against Australia in their quarter-final. It all depends on how England recover by Wednesday night but Mark 'tinkerman' Sampson has not been afraid of making changes, so a lot of the players will still be relatively fresh."
Magowan: "Rankings aside, the biggest problem against Japan may surround ball possession. England have struggled to keep it, while Japan are masters and are often likened to Barcelona. It hasn't been much of a problem so far, though. Counter attacking and set-piece goals have proven decisive."
Brown-Finnis: "Japan are a very efficient team, a team that has a game plan and sticks to that game plan. I don't see them particularly having a plan B but what they do with plan A has been very successful. In some ways it will be tactically easy to plan how England will play, because they know how Japan play."
England and Arsenal forward Rachel Yankey: "I see no reason why England cannot go and beat Japan and get to the final. Then who knows? They have surprised everyone. They made history tonight, so why not? Don't write us off."
White: "Japan are without doubt a great technical side but they have only been winning games by one or two goals. Another thing going in England's favour is that they beat them at the previous World Cup four years ago, so it can be done."
Who will win the World Cup and why?
White: "I said at the start of the tournament that the United States would win it because they are wounded from losing to Japan on penalties in the final four years ago. They also have excellent support in Canada. It's going to be a cracking semi-final between them and Germany but I think they will get past them and I still think they will win it."
Coultard: "There hasn't been one outstanding team whose name you think is already on the cup, or that they are the team to beat. Germany were lucky against France and the USA are an ageing team. Can England do it? Why not? There's no reason why they can't go on and do it."
Smith: "England have the ability to go all the way. They have got strength in depth and players who come on and do the business."
Magowan: "England have a very good chance to repeat the men's team's feats of 1966, but they have now reached the same stage as three of the world's top four teams.
"The United States, ranked second, do not look like the force they were in winning the London 2012 Olympics, while Germany - ranked top - thrashed England 3-0 at Wembley last November."