Fanendo Adi: Portland Timbers striker wields chainsaw after goal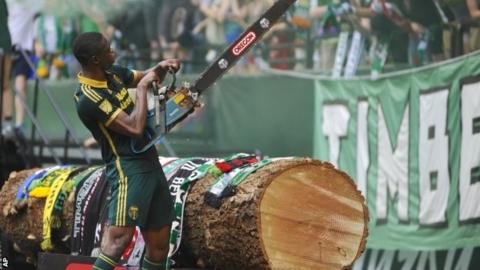 Changing a tyre, carving meat, scoring a goal, using a power tool - certain things just feel empowering.
Portland Timbers striker Fanendo Adi managed two of the four on Sunday when he smashed in his second goal against Seattle Sounders before wielding a chainsaw in joyous celebration.
The Timbers keep a log behind the goal at their Providence Park home and club mascot Timber Joey typically cuts a piece after each goal with the rugged piece of machinery.
Goalscorers get to keep the piece of wood, so any prolific scorer should have plenty to heat their home for free in winter.
This unique touch - though possibly not ideal from a health and safety perspective - pays homage to Portland's logging industry and is a practice Nigerian Adi seems keen to get to grips with.
His side eased to a 4-1 win and who knows, maybe he did get to change a tyre and carve some meat by day's end.