Uganda's SC Villa aiming for revival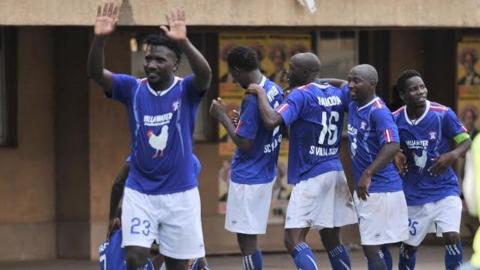 Uganda's most successful team, SC Villa, are hoping a first trophy in six years is the start of a revival that can culminate in continental success.
Villa's 3-0 win over rivals KKC FC in this year's Uganda Cup means they will play in the 2016 CAF Confederation Cup.
The club's aim is to be the first Ugandan side to play in the group stages of an African club competition.
"Our target will be to get to the group stage of the Confederation Cup," club president Ben Immanuel Misagga said.
The 16-time champions of Uganda are hoping their improvement will continue under new Spanish coach Antonio Flores and with a youthful squad.
SC Villa facts:
Began life as Nakivubo Boys in 1975
3-time Cecafa (East African) Cups: 1987, 2003, 2005
Promoted to Uganda top flight in 1979
African Cup of Champions: Runners-Up 1991
16-time Uganda Champions: 1982, 1984, 1986, 1987, 1988, 1989, 1990, 1992, 1994, 1998, 1999, 2000, 2001, 2002, 2003, 2004
Caf Cup: Runners-Up: 1992
9-time Uganda Cup winners: 1983, 1986, 1988, 1989, 1998, 2000, 2002, 2009,2015
"Besides working hard to use home advantage to win the home games with our big support, we are also waiting for coach Antonio Flores to bring new ideas on how to approach continental football."
Misagga is a former fan co-ordinator for Villa and since becoming the club president last year he has helped turned around the fortunes for the club.
He has not only changed the style of management but also managed to encourage more fans to go to matches to cheer their team.
"It is not by mistake that we finished second in the Uganda Premier League and won the Uganda Cup," he insisted.
"We knew that working hard to get the fans back would push and motivate the players to work hard to win something."
As well as making use of veteran players, like fan favourite Hakim Magumba, the club also had local musicians play at games to entertain fans.
But Misagga is not resting on his laurels and is already planning for the future.
"Spanish coach Antonio Flores is coming for at least the next two seasons and we won't have any player older than 26, as we build a stronger and younger team," he added.
The club's former administrative manager, Tushar Ruparelia, says the next step is to attract corporate sponsorship.
"There is no way a big club can survive without sponsorship," Ruparelia, who oversaw some of the club's most successfull years, reasoned.
"Gone are the days that clubs could rely on a few individuals who would help the team financially."
He praised the SC Villa team for working hard to win the first silverware in six years also advised that as well as investing in young players they need to look at setting up a proper academy.
Villa's Uganda cup win earned them an invitation to play Tanzanian champions Yanga and their compatriots Azam, with both matches ending goalless.