Women's World Cup: Will England run bring lasting change?

By Phil McNulty
Chief football writer
Last updated on .From the section Women's Football
Women's World Cup semi-final: Japan v England
Date:
Thursday, 2 July.
Kick-off:
00:00 BST.
Coverage:
Live on BBC One, BBC Radio 5 live and BBC Sport website
Repeat:
Available on the iPlayer and Red Button from 08:00 BST
England captain Steph Houghton described the World Cup semi-final against Japan in Edmonton as the biggest game in the history of the nation's women's team - but has the past fortnight already altered the landscape of the sport forever?
As England's Lionesses have made their way through the tournament in Canada, from the disappointment of the opening defeat against France to the drama of victory against the hosts in the quarter-final, the nation's imagination has been captured.
The interest was reflected in viewing figures of 1.6 million on BBC One for a game that concluded well into the early hours - and that figure is sure to be eclipsed as Mark Sampson's team attempt to become England's first national football side to reach a World Cup final since 1966.
Has World Cup changed perceptions forever?
The advent of the Women's Super League (WSL) and occasions such as England's friendly with Germany last November proved the sport is on the move and fast. The game at Wembley sold out all 55,000 available tickets, though transport problems reduced the attendance to 45,619.
There has, however, been nothing to compare with the profile and importance of their meeting with World Cup holders Japan. It is the occasion those who have worked so hard to grow the game have waited for, with the possibility of even bigger feats ahead.
The opportunity for a group of England women to make themselves household names is on offer - with the added reward of changing how the game is perceived in the minds of the sporting public.
Houghton said: "English women's football is getting bigger and bigger each year. It's a huge opportunity to inspire young girls to play and look at us as heroes. That's what drives us on as well, to give them that opportunity to play international football when they are older."
Former England defender Danny Mills, who has followed the team's fortunes closely as a BBC Sport pundit, says: "I really feel this is the opportunity of a lifetime. They are one step away from making history and it would have a massive impact on the perception of the game and at grassroots level.
"World Cup semi-finalists is one thing - but to reach a final and then to be a World Cup winner is a massive difference. To say you've played in a World Cup final, win or lose, is a huge tick on the CV of the players and the game in this country.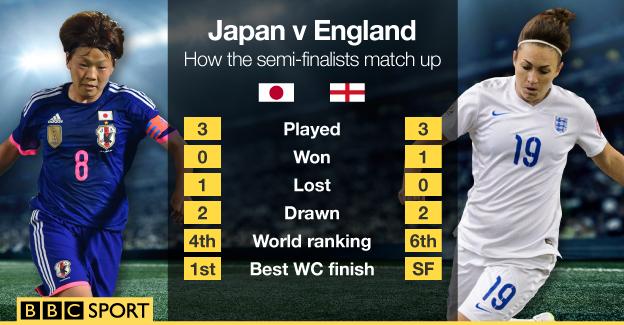 "Whatever sport you're in, you need inspiration. You need to be able to look to the people playing and say: 'I want to be like that, I want to emulate what they have done.'
"There are always moments when you say you want to be like that and this can be one of them for England's women."
Will World Cup success leave a legacy?
Women's football in England was already experiencing a surge in interest before the World Cup - so when the WSL resumes on 12 July, further gains can be expected.
The WSL started in April 2011 and Liverpool, Chelsea, Manchester City and Arsenal are all represented, though Manchester United have yet to get involved. Liverpool are reigning champions having won the title on the final day of last season.
Attendances were up 30% in 2014, with the average crowd 728 compared to 562 in 2013. Manchester City had the highest average league attendance at 949.
Two-thirds of matches in the opening round of games this season brought in attendances of more than 1,000 and by the sixth round attendances were up 8% on the 2014 year-to-date average and 22% on the full-year average. The season concludes in early October.
FA Cup finalists Notts County pulled in a record-breaking attendance of 2,057 for their 1-0 win against Liverpool Ladies on 10 May. This after attendances had slumped to below 300 when they were Lincoln Ladies before a move and rebrand to Nottingham last year.
Viewing figures for the World Cup have underscored the rise in interest. Almost 11 million BBC viewers have watched a minimum 15 minutes of the coverage of the tournament.
The BBC Sport website's live text commentary of England against Canada brought in 600,000 browsers for a game that kicked off after midnight, a figure that eclipsed some of the England Under-21 male team's statistics at the Euros.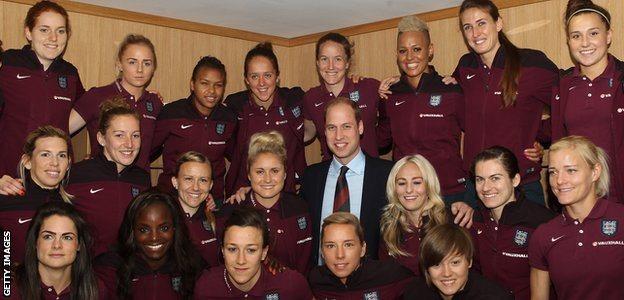 The trick now, and not an easy one to perform, is to turn this short-term spike into permanent, long-term progress.
Some claimed rugby union would become bigger than football when England won the World Cup in 2003 but reality dictated otherwise. The fanaticism of the Ashes-winning summer of 2005 did not fully translate in subsequent years as the sport was lost to free-to-air coverage.
What is not in doubt is that interest in women's football, thanks to the deeds of England's Lionesses, is now in a better position than ever to flourish.
How will the English game improve?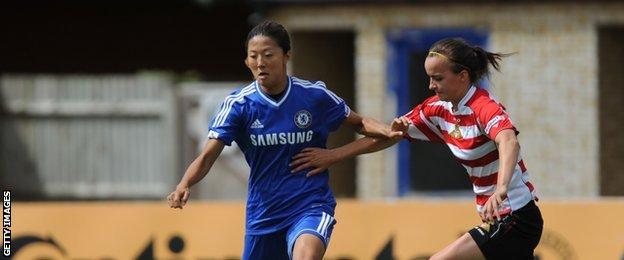 With greater scrutiny comes greater criticism - and providing that criticism is not gender-specific then observers have every right to question the quality of a product.
There is no getting away from the fact work remains to be done to improve women's football in England. It is what the Football Association is striving for in its campaign to grow the game.
Some still stay away from the WSL, not because it is played by women but because the product needs to improve. There should be no problem with that. It is a conundrum for any sport - how do we improve to make more people watch?
This is prime time for England after the World Cup and greater rewards pouring into the game should lead to greater investment - but with some top American female stars earning about $2m (£1.27m) a year through endorsements, they will not be attracted across the Atlantic.
There is the chance of increased investment, but will it be enough to make the sort of superstars in England that the States have in Alex Morgan (who has 1.79 million Twitter followers) and Abby Wambach (493,000 Twitter followers) or even bring those personalities to England?
And can the sport suddenly demand huge sums for coverage?
Unlikely in both cases.
So it looks like it will be down to the FA to continue their tireless work and ride the wave of goodwill for the women's game.
Should England reach the World Cup final, this will instantly make the WSL more attractive and a little more lucrative - always useful when attracting better players. But will it be enough?
It remains a huge task, as research figures in the FA's recent We Can Play campaign revealed football is still not regarded as a sport of choice for young girls in this country.
But the FA has been presented with a golden chance it cannot miss.
Antidote to England's men?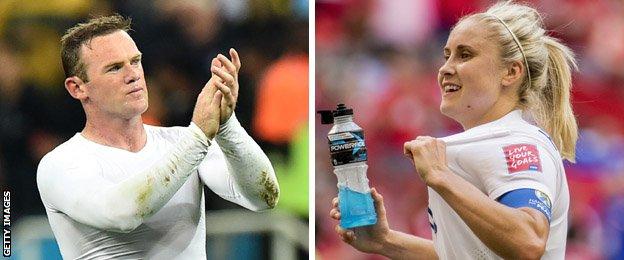 England's women have provided an uplifting contrast emotionally, but it is perhaps stretching the point to suggest they have done the same in a sporting context.
The success of England's women has, predictably, been used as a stick with which to beat their male counterparts as they have failed in a succession of major tournaments, including the recent European Under-21 Championship, where Gareth Southgate's side failed to make it out of their group.
Comparisons, however, are pointless, irrelevant and do a disservice to the great success of the Lionesses. Events at the World Cup will have no negative impact on the men's game, domestic or international, in England.
This is the time to focus on the success of the women alone rather than use it to denigrate the men who have, after all, won six out of six Euro 2016 qualifiers.
Mills says: "It will always be compared to men's football but women's football is in its infancy. In terms of timescale, infrastructure and participants it is still growing up.
"This next game is a massive milestone for women's football in this country.
"The timing has been perfect. There is no Premier League, there is no men's international football at the moment. It is the ideal opportunity."
Money-spinner?
The profile of England's female footballers has never been higher - basking in BBC and back-page national newspaper publicity on a scale, fully merited, that has never been seen before.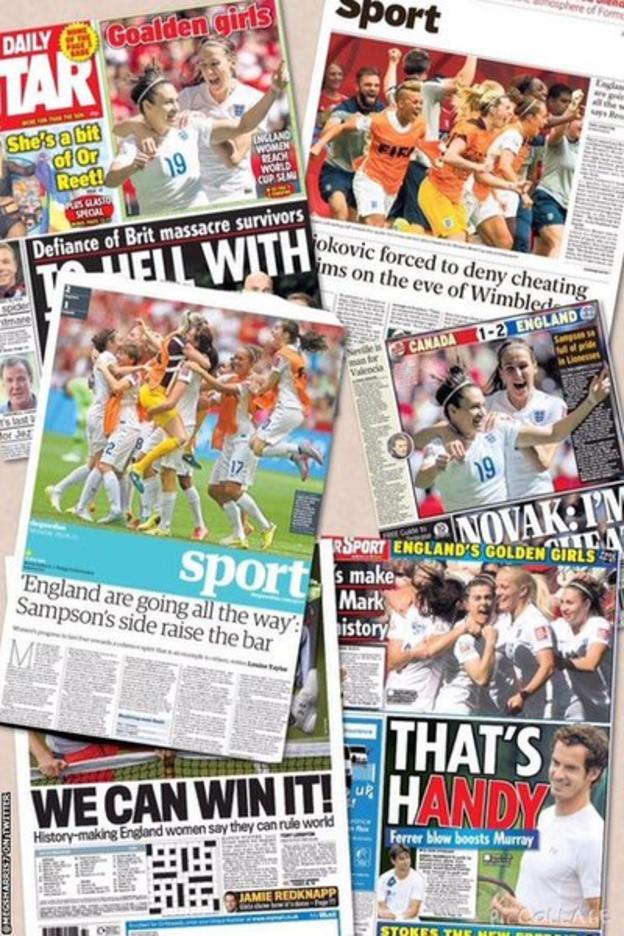 So with the success comes the spin-offs and the chance to take personal and financial advantage of their achievements in Canada through off-the-field activities.
Rod Kohler, managing director of a sports marketing and sponsorship consultancy, told BBC Sport: "Their profile will be raised and they need to make the most of it in the short term.
"This success will increase their chances unbelievably. You can see it in other sports. The talk is about the women's football team but then you look at Liam Broady who won in the first round at Wimbledon, suddenly he is in every single newspaper, the man of the moment.
"From an agent's point of view you spend hours and days and days knocking on doors then you get that game-changing moment when people are knocking on your door and you're managing calls rather than making calls."
England's players are on £20,000-a-year central contracts but it is hard to assess exactly how much they might earn in spin-offs.
Kohler said: "Endorsement deals for footballers is a tricky business. You have to be very high profile in order to get a deal over and beyond the boot deal and kit deal. It's a tough game and even some big-name Premier League players do not get deals outside the football world."
And the work would start when England's players and staff come home, with Kohler adding: "This is really their chance to shine. They need to be worked when they come back if this is what they want to do.
"This is the time when invitations from Question Of Sport, game shows and things like that start coming in. It is an unbelievable opportunity, not only to become a very well-known player for the future but commercially this is the absolute prime time to be grabbing the opportunity and making the most of it."
Into the mainstream
One of the driving forces behind the growth of the women's game in this country has been Kelly Simmons, who has been central to the game's development since her appointment as the FA's director of women's football in December 2012.
She described the win over Canada as "a watershed moment", adding: "It feels like it is a time when the nation has fallen in love with the Lionesses."
The FA already has plans in place to continue to grow the women's game. Events in Canada have simply provided stronger foundations to build on and drive one of their main objectives.
The We Can Play campaign is designed to increase participation numbers and change perception by increasing awareness that football is a game for young girls and women. It hopes to canvas support from 100,000 girls and parents to grow the game even further.
Simmons said at the launch of the campaign that the challenge was moving away from the perception that football was not a game for girls.
She said: "We need to ask ourselves - why do these perceptions still pervade? The World Cup is taking centre stage and domestically the Super League continues to grow. The profile and professionalism of the women's game has never been greater.
"The FA is doing its part to ensure the game is an attractive mass-participation sport for girls and women but we should ask ourselves why does society allow antiquated attitudes to persist?
"Let's have an open and honest discussion - in doing so we want to shatter the myth that football is for boys and give thousands of girls the opportunity to enjoy our beautiful national game."
Of the fathers questioned as part of FA research about which sport they would encourage a daughter aged 7-11 to play, football came seventh with 19%. Swimming was top at 59%. Among young girls that did want to play, one in four did not follow up the interest because of a lack of family or peer support.
The FA is hoping the deeds of the likes of Houghton, Jodie Taylor and Lucy Bronze will make those roots grow - and grow even stronger with a World Cup semi-final win against Japan.