Glasgow City: Head coach Eddie Wolecki Black departs club
Last updated on .From the section Women's Football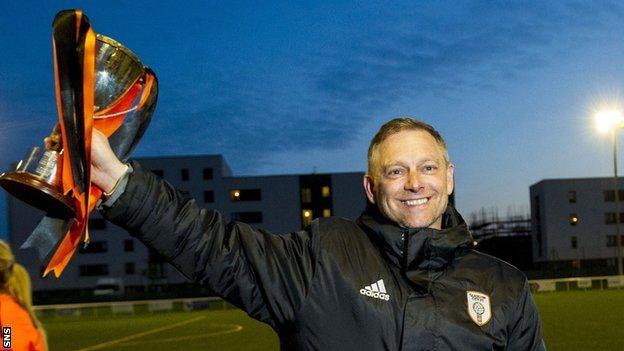 Glasgow City head coach Eddie Wolecki Black has ended his eight-year tenure at the club by mutual consent.
Wolecki Black, 50, joined City in 2007 and was made head coach a year later, winning eight consecutive league titles and featuring in the Champions League.
"The highs far outweigh the lows," he said of his time at the Scottish Women's Premier League champions.
Praising the outgoing head coach, club manager Laura Montgomery said it was time for a change.
Wolecki Black said he had been fortunate to have "double" the four-year shelf life of a manager, adding: "During that time we have managed to achieve some wonderful memories.
"I would like to thank everyone who has played a part in our success throughout my time. Without their support, loyalty and hard work I doubt I would have lasted as long.
"I have nothing but praise for the club and of course will still take a huge interest in their future.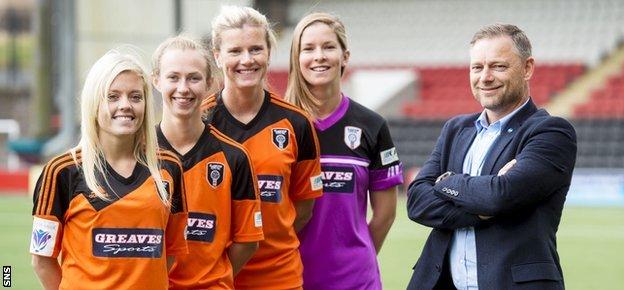 "After eight years my enthusiasm was not what it once was and the club deserve better than that. A new opportunity awaits me and it is a fresh start for the club.
"The past will now remain a standard-bearer for the club and I sincerely hope the new manager can take the club to the next level and keep the name of Glasgow City prominent across the whole of Europe."
Montgomery said everyone at Glasgow City was grateful for the success Wolecki Black had brought to the club.
"Eight years is a long time and both Eddie and the club management felt a change was right for everyone.
"As a coach it is only right he seeks new challenges and for ourselves, we also felt now was a good time for someone else to come in and take over.
"We have forged a terrific friendship over the years and we wish Eddie every success in the future."