Paide Linnameeskond hammer Raudteetoolised in Estonian Cup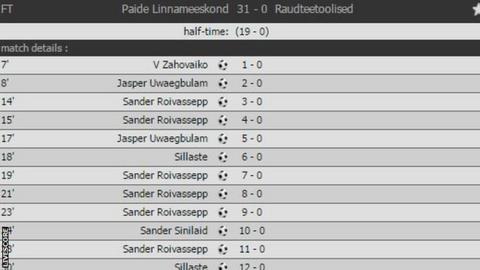 The road to glory is potentially brutal and some may argue aspects of Estonia's domestic cup competition are utterly pointless.
Less than three weeks after Tallinna Infonet hammered Virtsu Jalgpalliklubi 36-0 in round one of the competition, top-flight club Paide Linnameeskond have dealt out a 31-0 drubbing.
JK Raudteetoolised - from the country's lower footballing echelons - were 19-0 down by half-time but managed to stem the flow to just concede 12 in the second half.
Midfielder Sander Sinilaid helped himself to eight goals while attacking midfielder Sander Roivassepp scored nine times, with eight of his strikes arriving by half-time.
While the chance to face top-tier opponents is the stuff of dreams for lower-league players in the United Kingdom, surely a hammering which sees goals arrive at a rate quicker than one every three minutes is bordering on cruel?
In 30 first-round ties so far, nine matches have seen the winning team score seven goals or more.
Sides progressing to round two have hit a staggering 185 goals in total while those exiting have managed just 26.
The winners of the competition enter the Europa League qualifying round. Any prize money from such a tie could fund some new goal nets. It would appear those currently in use are being overworked.