Rayo Vallecano: Kit design against homophobia & other battles
Last updated on .From the section European Football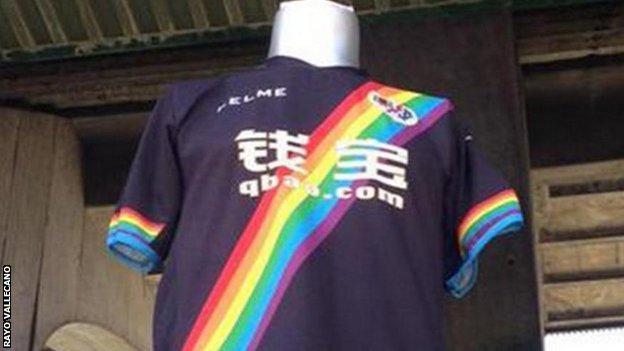 Rayo Vallecano have released an away kit which carries a symbolic gesture to the fight against homophobia and pays tribute to "unsung heroes in society".
The Madrid-based La Liga club's navy blue strip will feature a rainbow sash containing six colours.
Red is for those fighting cancer, orange represents the disabled, yellow signifies the battle against depression, green - the environment, blue marks a stance against child abuse and purple represents a movement against domestic violence.
The club state the collective rainbow, like the internationally adopted logo for gay pride, will mark a stance against homophobia and around £5 from every shirt sale will be given to charities representing each cause incorporated into the rainbow.
News of the kit design led to the term 'Rayo' trending worldwide on Twitter, with nearly 15,000 tweets on the subject posted in three hours.
"I love this club more each year," tweeted Michele Taylor from the UK.
While Alberto Ortega in Spain tweeted: "Some clubs pay lip service, Rayo Vallecano passes from words to deeds by helping the underprivileged. Great."