Champions League final: Wales' Super Cup success 'blew minds'
Last updated on .From the section Welsh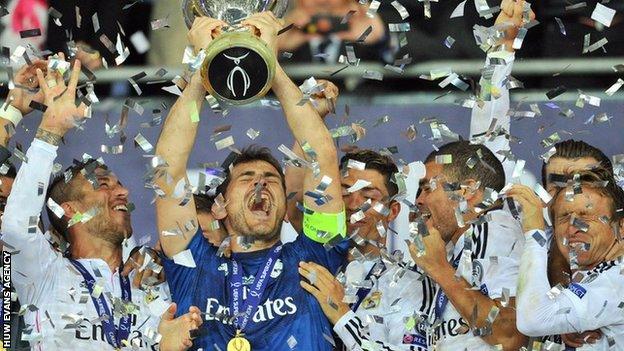 The success of the 2014 Super Cup in Cardiff paved the way for Wales securing the Champions League final, according to Jonathan Ford.
The 2017 final will be at Millennium Stadium with the Women's final at Cardiff City Stadium.
Football Association of Wales chief Ford said the 2014 Real Madrid v Sevilla game was crucial.
"Without that we wouldn't have been anywhere near getting the Champions League," said Ford.
"That blew a lot of people's minds."
Christiano Ronaldo's two goals saw a Real team including Cardiff-raised Gareth Bale beat Sevilla 2-0.
But Ford says off the field, the match organisation also proved a winner.
"We did a great job hosting it. We worked extremely hard on it," added Ford.
"They'd not long taken it out of Monaco where it had resided as a curtain raiser for many years.
"The first one after Monaco was is Prague which was okay.
"Then it was Cardiff. And Uefa told us after the final that we'd demonstrated that they'd made the right decision to take it from Monaco and that they'd be using it a a blueprint for future finals.
"It paved the way for us to be successful in our bid to get the Champions League final."
The 2014 Super Cup final was played shortly before Uefa dashed hopes of Wales helping to host 2020 European Championship games.
Matches were instead awarded to Glasgow's Hampden Park, with Ford claiming Uefa politics played a part in that decision.